Bob Reddy – Florida Catholic
12/4/2018
Epiphany Cathedral in Venice was illuminated in red as the Diocese participated in the "Courage in Red" initiative to shine the light on the plight of persecuted Christians.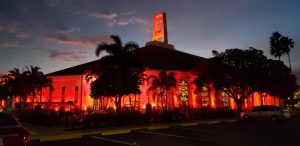 In addition to the illuminating of the Cathedral on Nov. 28, a variety of activities took place throughout the Diocese in support of the "Courage in Red" initiative. The activities are part of a worldwide "Courage in Red" campaign by Aid to the Church in Need (ACN), the international papal charity that provides pastoral and humanitarian aid to persecuted Christian communities.
Edward Clancy, ACN U.S. director of outreach, said that "hundreds of thousands of Christians suffer various forms of persecution each year – from horrific brutality in North Korea to systemic, if more subtle, oppression in countries like India."
The "Courage in Red" campaign is designed to bring the plight of our suffering brothers and sisters more dramatically to the attention of faithful in the U.S, Clancy explained. "Hopefully, greater awareness will lead to greater action," Clancy added.
In a recent report by Aid to the Church in Need on Religious Freedom, it found that some 61 percent of the world's population live in countries where religious freedom is not respected. Among them are almost 300 million Christians, or 1 in 7, who live in a country of persecution, subject to violence, arrest, and human rights violations.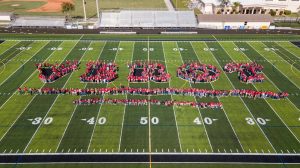 On Nov. 28, Diocesan Catholic school students wore red in solidarity with persecuted Christians and participated in age-appropriate activities to learn about their plight. Several schools held prayer services focusing on the suffering and martyred Church throughout the world.
High school students also watched the new documentary "Christians in the Mirror" which compares and contrasts the plight of persecuted Christians in the Middle East and Africa in contrast to other Christian Churches which live in relative peace.
At St. Ann Catholic School in Naples, the morning prayer included students placing their prayers for persecuted Christians in a prayer box.
The students at Bishop Verot Catholic High School all wore red and went out onto the football field to stand united at the center of the field and then to form the letters V-E-R-O-T.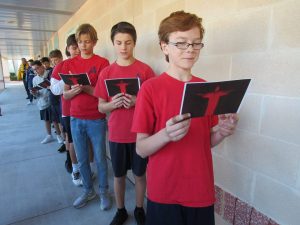 Every student at St. Martha Catholic School and St. Mary's Academy in Sarasota wore a red uniform shirt and a red ribbon in honor of those being persecuted for their faith. Each student also created a card of support for persecuted Christian children and will send them to those in the Holy Land. Every one of the classes prayed one decade of the Rosary in chapel during that week for countries where Christians are being persecuted.
An evening prayer vigil was held at Epiphany Cathedral which included prayers, Adoration and Benediction. Led by Father James Shea, he spoke about how the persecution of Christians started with Jesus Christ, who suffered and died on the Cross.
"Christ was the first martyr of what would become many through the years, leading up to today where people are dying for their faith each day," Father Shea said. "Those being persecuted feel forgotten by the West. Because it's not happening here, we don't pay attention. We Christians should pay attention. We need to be more prayerful each and every day; praying for our brothers and sisters in other nations who are being persecuted and standing together with them in their struggle."