Click on the links below for the latest news and updates regarding the Diocese of Venice Department of Education response to the coronavirus. More information will be posted to this page as it becomes available.
April 3, 2020:
For Catholic School Educators: Instructions and templates to create a class app and digital reward system
For Catechetical Leaders and Families: Online resources to help create a Holy Week Home Family Retreat during the coronavirus pandemic
April 1, 2020:
The Diocese of Venice in Florida has partnered with dozens of publishers, production companies and online services to provide free or highly discounted resources for our religious educators. Anne Chrzan, Diocesan Director of Religious Education, offers hope and comfort to those who feel cut off from teaching and practicing our Faith. She reminds us that no one is alone. Through phone, email, live streaming and social media, we can reconnect with the faithful and remain committed to serve others by serving our Lord and Savior, Jesus Christ.
March 31, 2020
Letter from the Superintendent: Expressing Gratitude from a Distance
March 25, 2020:
Ben Hopper, Interim Superintendent of Catholic Education for the Diocese of Venice in Florida, extends his support and appreciation to Catholic Schools Community for their hard work, abundant enthusiasm and unconditional courage during the coronavirus crisis as all 15 schools in the Diocese transition to the virtual classroom.
March 23, 2020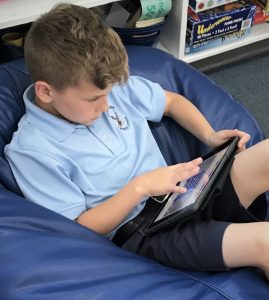 Letter from the Diocesan Director of Religious Education: Online resources from religion textbook publishers
Free online learning resources for students, teachers and families
Catechetical resources for leaders and families