Evangelization
He is Risen! Alleluia! An Easter Message from Bishop Frank J. Dewane:
Have a Blessed Holy Week! For Holy Week Mass Times, Click Here
Palm Sunday and Easter Sunday Televised Mass – The Diocese of Venice in Florida will air the televised Palm Sunday and Easter Sunday Masses, each for a full hour. The Masses can be viewed at 9:00 a.m. on the CW Network in Sarasota, Manatee, Desoto, Charlotte, Hardee and Highland counties, and at 10:30 a.m. on FOX4 in Charlotte, Lee, Collier, Hendry, Glades and Desoto counties. The Mass is also available on the Diocese of Venice website at dioceseofvenice.org/tvmass.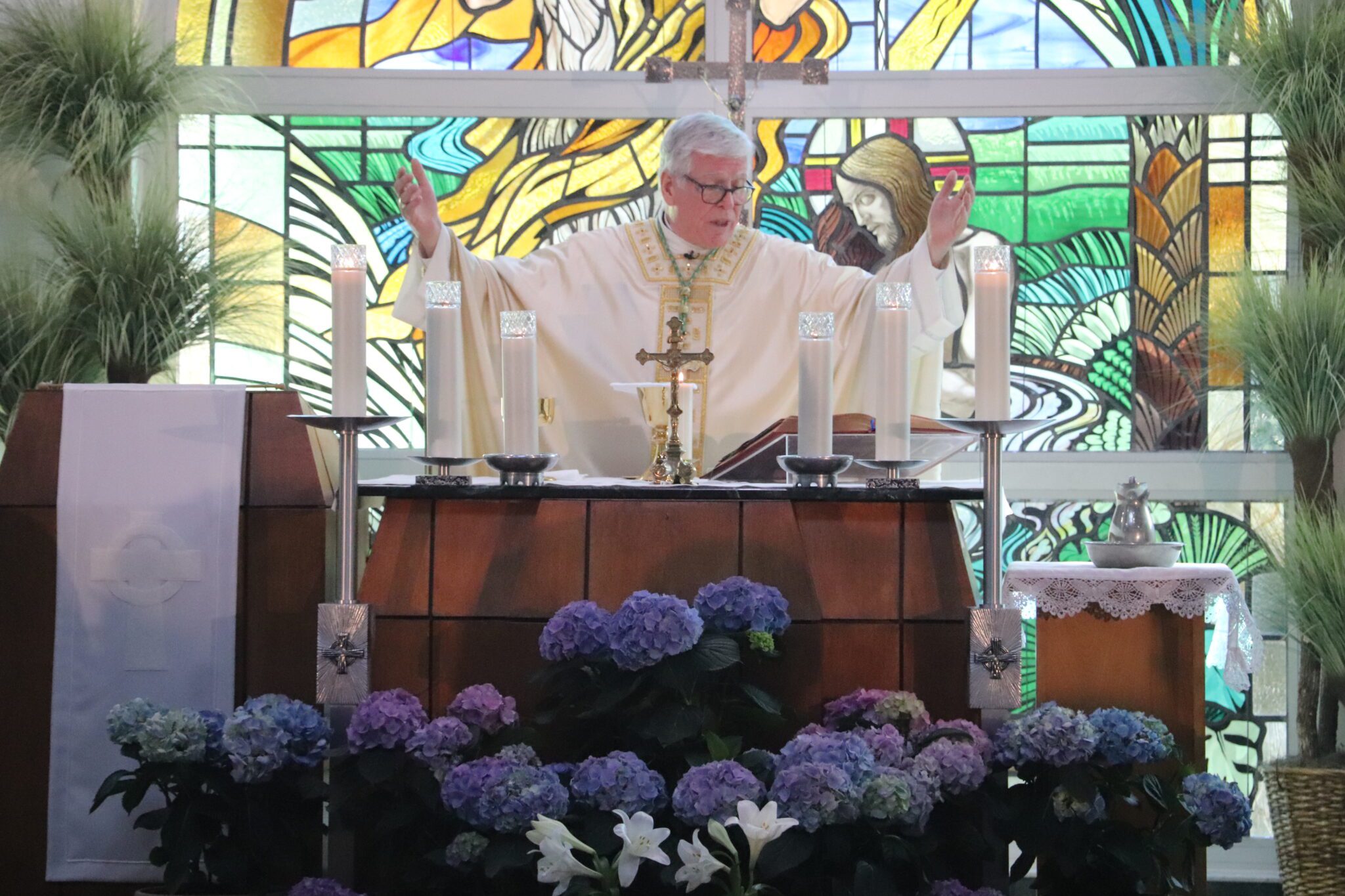 _____________________________________________________
Lent begins on Ash Wednesday, February 22, 2023.  Easter is Sunday, April 9, 2023.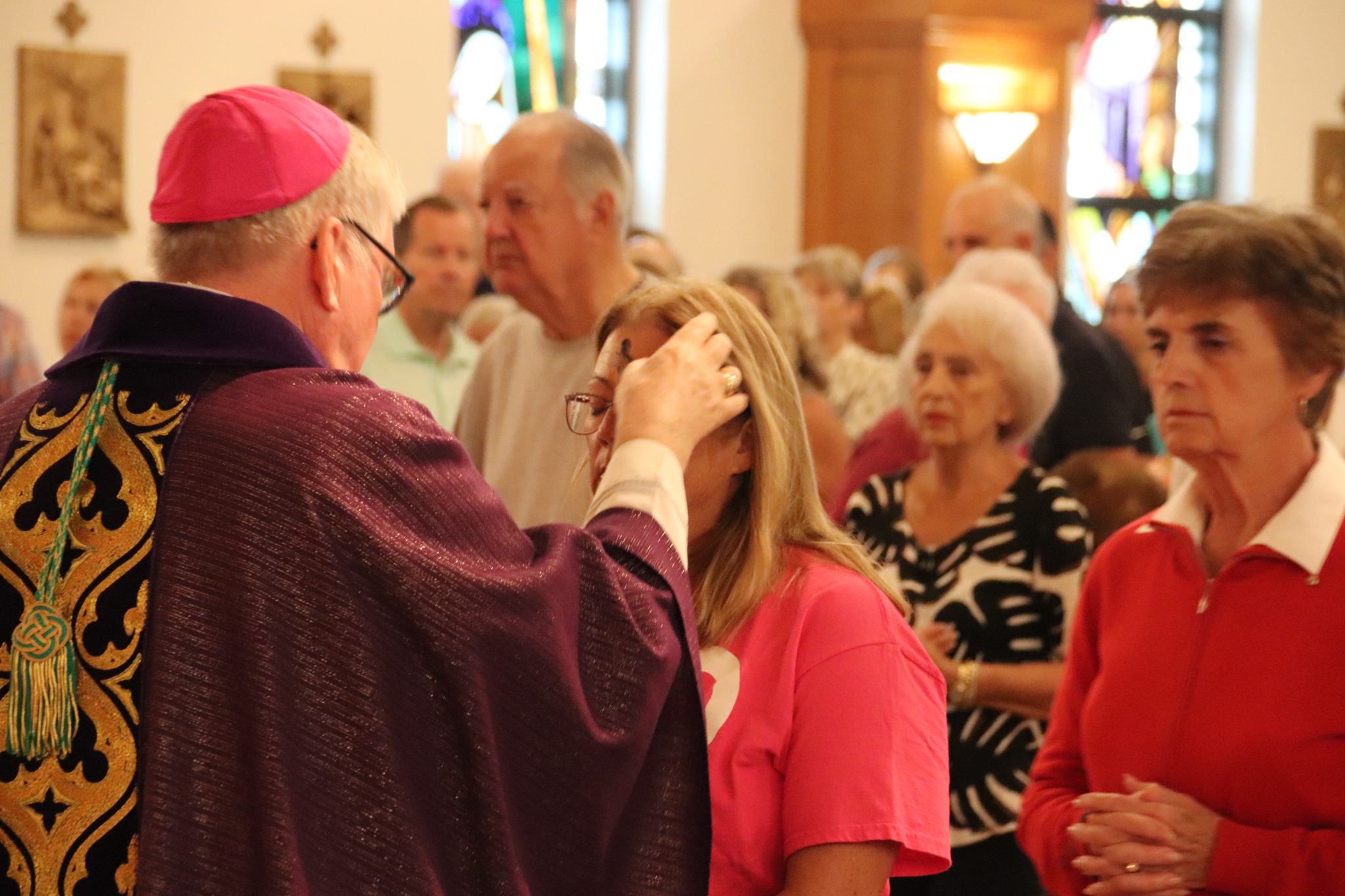 A letter from Bishop Dewane
Lent, a New Beginning
My Dear Brothers and Sisters in Christ,
Pope Francis has described Lent as a new beginning, a path leading to the certain goal of Easter, Christ's victory over death.
The message from the Holy Father is clear; we must take time out of our busy schedules to renew our encounter with Christ, living in His Word, in the Sacraments and in our neighbors. During this season we are invited to hear and ponder more deeply the Word of God, which is the foundation for the Faith.
Lent begins on Ash Wednesday, Feb. 22, 2023, and ends with the celebration of the Mass of the Lord's Supper on Holy Thursday, April 6. The Lenten Season is a time for fasting, praying and almsgiving – the three pillars of Lent – as we prepare to celebrate the Paschal Mystery.
It is important to remember that throughout the Lenten Season, the faithful must break out of indifference and enter into the unwavering love and mercy of God and become more energized about their Faith.
Fasting
Fasting and abstinence are not only about food, or the lack of it, it is also about sacrifice for the benefit of our spiritual lives. Sacrifice and self-denial should not be viewed as something to lament, but instead should be viewed as an opportunity to remove anything that distracts us from Jesus Christ.
For early Christians, fasting was an important and meaningful Lenten practice in commemoration of Christ's Passion and Death. During these earlier days of the Church, the observance of fasting was very strict with one meal allowed per day.
The current Lenten discipline, set forth by the Roman Catholic Church, consists of both fasting and abstinence on Ash Wednesday and Good Friday, as well as abstaining from meat each Friday of Lent.
These small sacrifices should just be the beginning of one's Lenten journey as we are all called to grow closer to Christ. Fasting is not solely about food, and abstinence is not about meat; rather, both are about spiritual conversion and renewal.
Prayer
The second Lenten discipline is prayer. All Catholics are called to a prayer life that is both diverse and rich. A diverse prayer life includes personal and communal prayer, in which the faithful grow closer to Christ Himself – as well as to the Church Christ founded.
During Lent our prayer life should not only grow but should focus upon the areas of life in which we might have fallen short of God's expectation – in other words, where we have sinned. Prayer is an indispensable component of the Catholic Faith. Therefore, by growing and maturing in that Faith, prayer becomes much more – it becomes an act of worship.
It must be understood that as life progresses and one receives more of the Sacraments, prayer is recognized as a critical act of public worship in the Church, especially the Holy Sacrifice of the Mass.
Prayer is an ongoing conversation with God, expressed through both words and actions. Thus, it can be easily understood that to grow in deeper communion with God, one must pray daily and this does not have to be in a Church.
The five basic forms of prayer are blessing, petition, intercession, thanksgiving and praise. When someone prays in any one of these forms, they are expressing a different emotion, need, concern or appreciation. No two prayers are the same, just as no two conversations are the same.
In prayer, all grow in the love of God and greater appreciation of who God is and what God does. In a world so full of uncertainty and loneliness, great comfort should be taken in knowing that by praying, God will offer His blessings and grace. By offering blessings back to God in prayer, the blessing is returned to Him. What a beautiful exchange of love that becomes!
Almsgiving
The third and final discipline traditional pillars of the Lenten observance is almsgiving. Often misunderstood, as with fasting and abstinence, almsgiving is an act of self-denial and is an expression of charity and assistance extended to the needy.
By almsgiving during Lent, one not only expresses care for those in need, but also expresses a sign of gratitude for all God has provided in one's life. These acts of charity are connected to the responsibilities of living the Faith that begins with Baptism and is reignited in the Sacrament of Confirmation. Each of us bear responsibility in helping our brothers and sisters in Christ, but it takes prayer and reflection to understand how God is calling individuals to give of themselves.
The Catechism defines almsgiving as, "Money or goods given to the poor as an act of penance or fraternal charity… Almsgiving, together with prayer and fasting, are traditionally recommended to foster the state of interior penance."
This definition gives clarity as to how we are guided into the deep theological journey of Lent, and how these observances help to lift human beings out of their sinfulness toward a closer, more holistic relationship with the Lord. In a sense, almsgiving is a type of prayer. Because almsgiving requires sacrifice, it is also a sort of fasting from the material world.
By uniting fasting, prayer and almsgiving, one seeks to become a better person, more than he or she has ever been before.
In addition to these observances, the Lenten Season is an ideal opportunity to confess grave sins. To facilitate this requirement, all Parishes in the Diocese of Venice will be open with a confessor present so that the faithful will find ample opportunity to receive God's Mercy in the Sacrament of Confession from 4-8 p.m., Friday, March 31, and 9 a.m.-noon, Saturday, April 1. Please check with your local Parish for additional reconciliation times.
It is important to understand the way in which these Lenten observances can work in concert with one another. Each is indispensable in its own way and offers the faithful an opportunity to grow in greater love and appreciation of God. The Lord calls each person to total commitment. By practicing these observances together, even when the Lenten Season ends, they become more than the sum of their parts. They become part of a faith that flourishes and a heart that is increasingly dedicated to the Lord.
May God bless us all as we journey with Holy Mother Church and each other through this Lenten Season towards the Resurrection of Jesus Christ!
Sincerely Yours in Christ,
+Frank J. Dewane
Bishop of The Diocese of Venice in Florida
Click on the links below for resources for a fruitful Lenten and Easter season. Resources are from the United States Conference of Catholic Bishops (USCCB) and the Diocese of Venice Office of Evangelization.
The Three Pillars of Lent: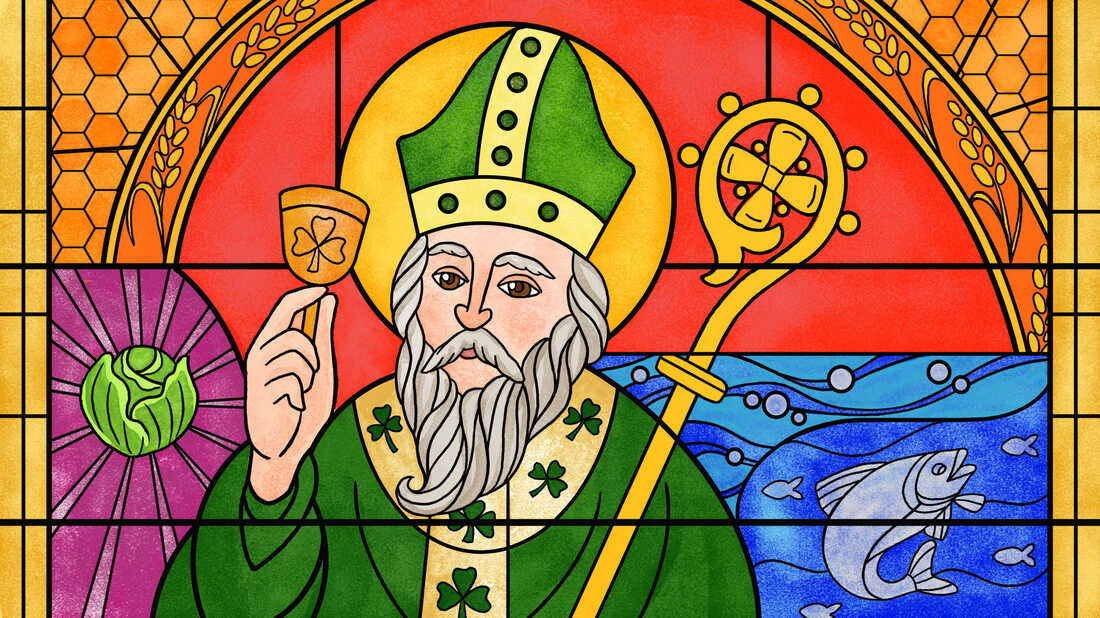 St. Patrick's Day Dispensation – With St. Patrick's Day falling on a Friday (March 17) during the Lenten Season, Bishop Frank J. Dewane is granting a one-day dispensation of abstaining from meat on that Friday alone. The Faithful are encouraged to choose another day in the same week to abstain from meat and to perform some other penance or work of charity on March 17 to assist in their spiritual Lenten journey. Abstinence from meat is to be observed by all Catholics who are 14 years of age or older. Ash Wednesday and all the Fridays of Lent (including Good Friday) are days of abstinence.
Sacrament of Reconciliation and Examination of Conscience
Diocesan-wide Times for Sacrament of Reconciliation during Lent: Most parishes throughout the Diocese of Venice will offer the Sacrament of Reconciliation during the following times, check your local Parish to confirm and for details! 
FRIDAY, MARCH 31, 4 PM – 8 PM, and SATURDAY, APRIL 1, 9 AM – NOON.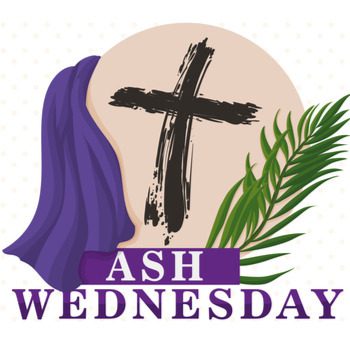 Ash Wednesday (February 22): A call to conversion, repentance, and reconciliation.
"Have mercy on me, O God, in your goodness; in the greatness of your compassion wipe out my offense." Psalm 51:3 (From the Responsorial Psalm for the Day)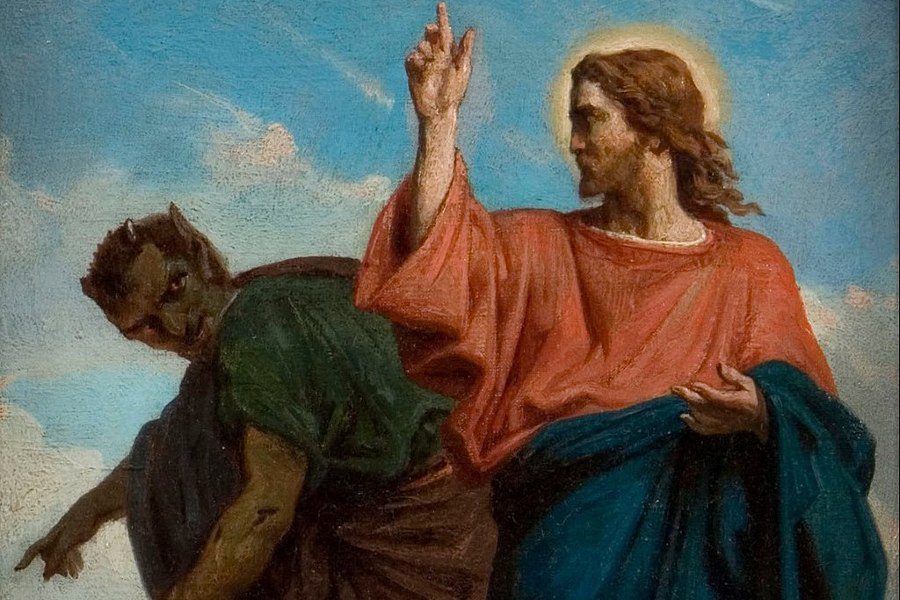 February 26 – First Sunday of Lent
Jesus goes into the desert for 40 days of fasting and prayer and is tempted by the devil."At that time Jesus was led by the Spirit into the desert to be tempted by the devil.  He fasted for forty days and forty nights, and afterwards he was hungry.  The tempter approached and said to him, "If you are the Son of God, command that these stones become loaves of bread."  He said in reply, "It is written: One does not live on bread alone, but on every word that comes forth from the mouth of God."
March 3 – The Feast Day of St. Katharine Drexel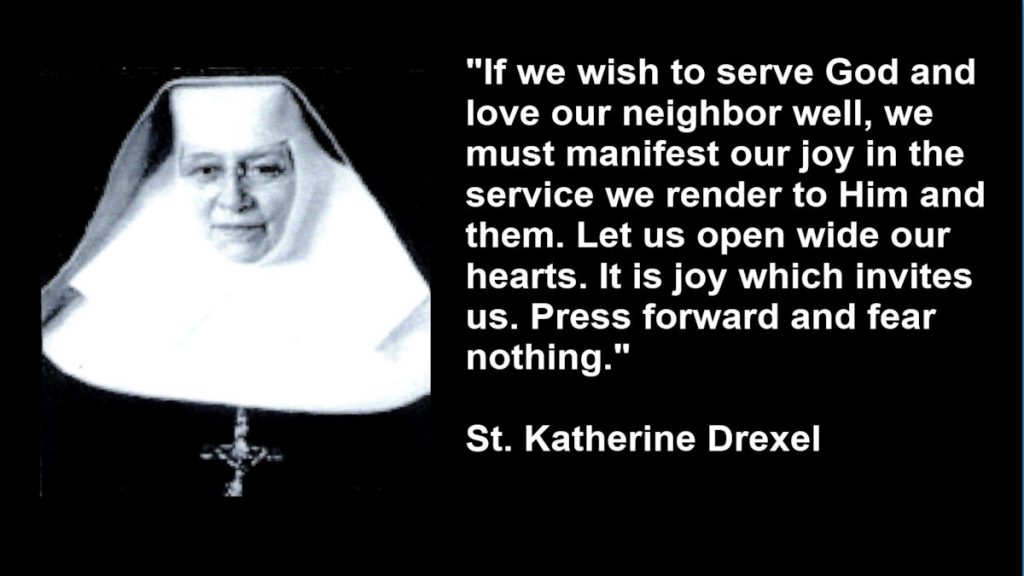 St. Katharine Drexel was born in 1858 in Philadelphia to a wealthy family. Moved by the plight, poor treatment of, and prejudice against Native and African Americans, she was encouraged to become a missionary to these peoples. Turning her back on her fortune, she began the Sisters of the Blessed Sacrament for Indians and Blacks. Although she was opposed by many, Katharine Drexel established a system of black Catholic schools in more than 13 states, 40 mission centers, and 23 rural schools. She also established 50 missions for Indians in 16 states.  She died on March 3, 1955, at the age of 96, and was canonized in 2000 by Pope St. John Paul II. She is the second canonized American-born Saint and is the Patron Saint of racial justice and philanthropists. St. Katharine Drexel, pray for us!
March 5 – Second Sunday of Lent
The Transfiguration of Jesus: "Jesus took Peter, James, and John his brother, and led them up a high mountain by themselves. And he was transfigured before them; his face shone like the sun and his clothes became white as light. And behold, Moses and Elijah appeared to them, conversing with him. Then Peter said to Jesus in reply,'Lord, it is good that we are here. If you wish, I will make three tents here, one for you, one for Moses, and one for Elijah.' While he was still speaking, behold, a bright cloud cast a shadow over them, then from the cloud came a voice that said, 'This is my beloved Son, with whom I am well pleased; listen to him.'" Matt 17:1-9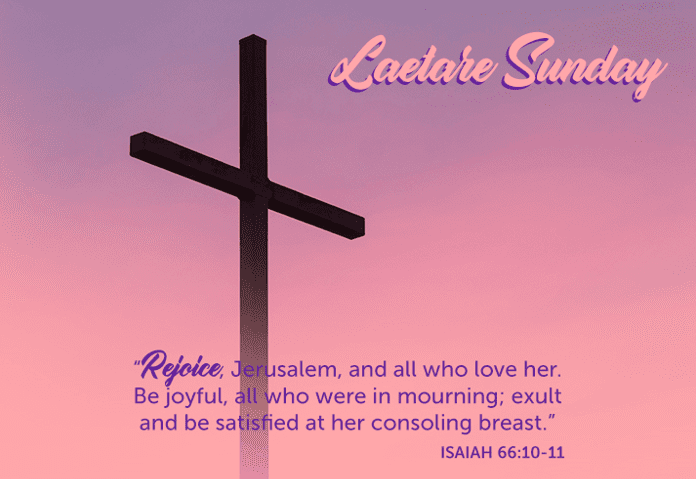 March 19 – Laetare Sunday
Laetare means "rejoice" in Latin, and the rose color is one that symbolizes joy. Priests may where rose-colored vestments and the altar may have some flowers adorning it today. During Lent, as in Advent (Gaudete Sunday), the Church allows a little pause in our penitential practices, to experience the hope and joy of the coming of the Easter Solemnity, and to gather our strength, to be refreshed in body and soul, and to be encouraged as we enter into the final portion of Lent when we enter into the holiest of days, the Triduum.
March 25 – Solemnity of the Annunciation
Today is the Solemnity of the Annunciation of the Lord.
Then the angel said to her, "Do not be afraid, Mary, for you have found favor with God. Behold, you will conceive in your womb and bear a son, and you shall name him Jesus. He will be great and will be called Son of the Most High, and the Lord God will give him the throne of David his father, and he will rule over the house of Jacob forever, and of his Kingdom there will be no end" …Mary said, "Behold, I am the handmaid of the Lord. May it be done to me according to your word."  Luke 1: 30-33, 38
March 26 – Fifth Sunday of Lent: The Raising of Lazarus
"I am the resurrection and the life; whoever believes in me, even if he dies, will live, and everyone who lives and believes in me will never die. Do you believe this?" She said to him, "Yes, Lord. I have come to believe that you are the Christ, the Son of God, the one who is coming into the world." John 11:25-27 (From today's Gospel)
HOLY WEEK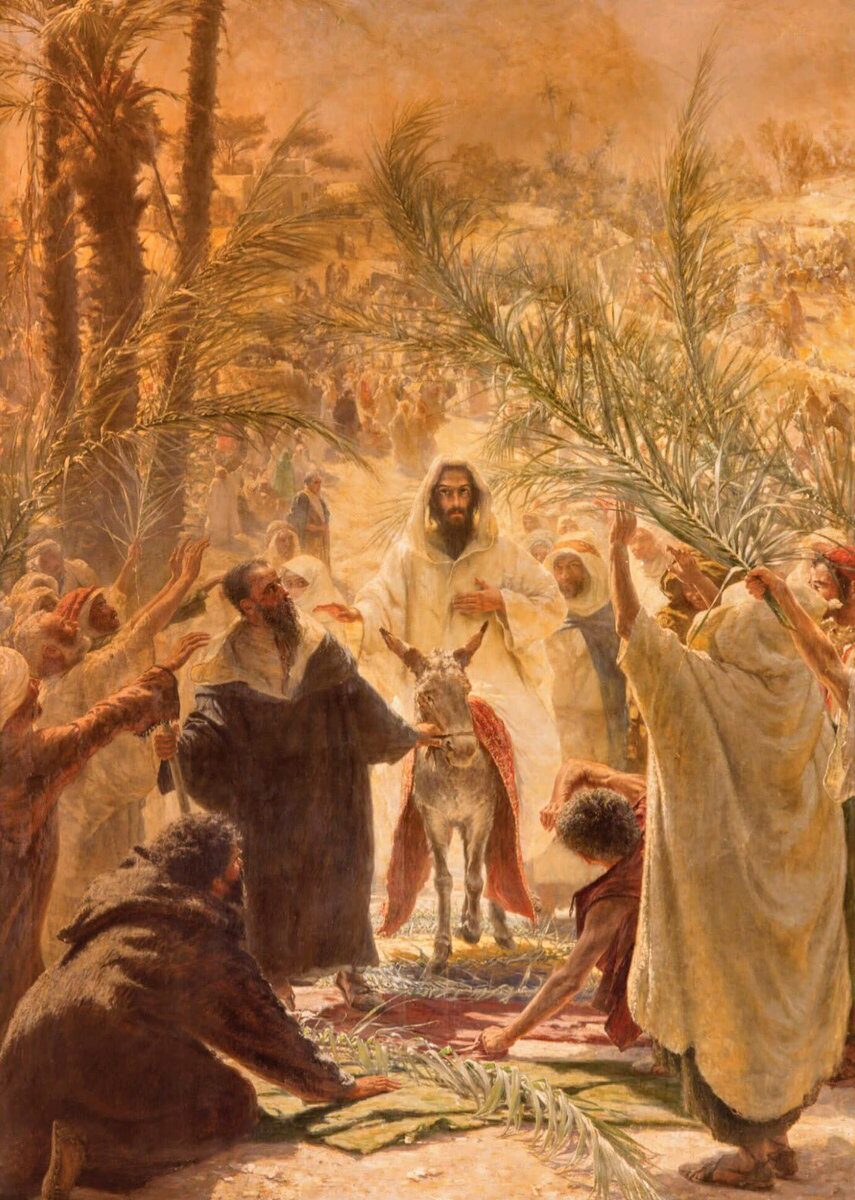 April 2 – Palm Sunday
Today is Palm Sunday and the beginning of Holy Week, with Christ's triumphant entry into Jerusalem.
"…they brought the colt to Jesus and put their cloaks over it. And he sat on it. Many people spread their cloaks on the road, and others spread leafy branches that they had cut from the fields. Those preceding him as well as those following kept crying out: "Hosanna! Blessed is he who comes in the name of the Lord! Blessed is the kingdom of our father David that is to come! Hosanna in the highest!" Mark 11:7-10
 April 6 – Holy Thursday (Last Supper)
Today is Holy Thursday, the first day of the Sacred Triduum. We commemorate the institution of the Holy Eucharist, the institution of the Sacred Priesthood, and Jesus washing the feet of the apostles, establishing the mission of charity of all Christians to serve one another.
April 7 – Good Friday
Today is Friday of the Passion of the Lord "Yet it was our infirmities that he bore, our sufferings that he endured, while we thought of him as stricken, as one smitten by God and afflicted. But he was pierced for our offenses, crushed for our sins; upon him was the chastisement that makes us whole, by his stripes we were healed." Isaiah 53: 4-5
April 8 – Holy Saturday
"Today is Holy Saturday, a day of profound mystery: Christ is dead and yet he remains busy at work, descending to the underworld to free the righteous held captive in the chains of death. The mournful suspense of Holy Saturday is thus imbued with the certainty of the Resurrection. Though our earthly sojourn be continually tinged by death, we know that our longing to exult in the fullness of redemption is not in vain. The Son of God himself has passed through death to rob it of its apparent finality. In Jesus, life wins." From the Magnificat, comment on Holy Saturday.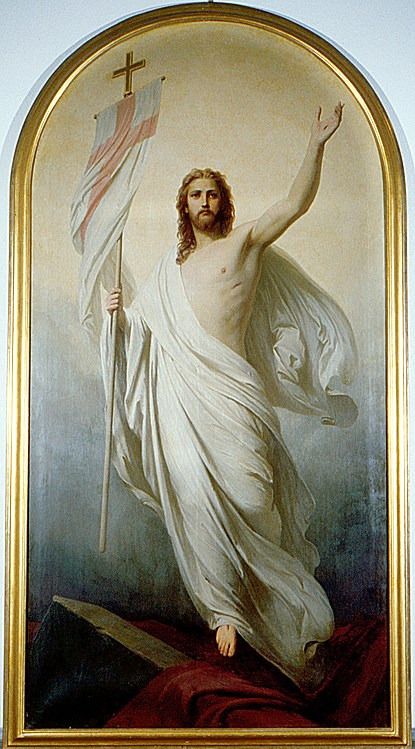 April 9 – Easter Sunday
"The Lord is truly risen, alleluia!  To him be glory and power for all the ages of eternity, alleluia, alleluia!" Lk 24:34; cf. Rv 1:6