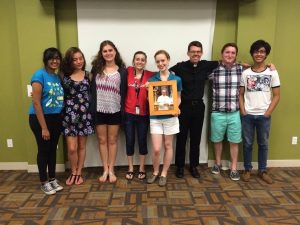 ---
Ringling College of Art and Design, New College of Florida, University of South Florida
 Fr. Matthew Grady
Campus Chaplain
mgrady@incarnationchurch.org
Joshua Mazrin
Interim Director of Youth and Young Adult Outreach
mazrin@dioceseofvenice.org
Mass on Sunday 7 pm
(rotating Campus Locations, schedule coming soon)
Bible Study every Wednesday
Ringling – New College – USF Catholic Club
Schedule Fall 
If you are interested in Catholic fellowship, worship and learning opportunities we invite you to participate in our weekly Sunday Masses which rotate between Ringling and New College campuses. We welcome all to attend.
Ringling Masses are held in the Student Smart Room & New College Masses are held at the Four Winds Cafe Porch.
Join us for Mass followed by gourmet salad and healthy food with lively discussion.
Fall Semester Mass Schedule
Schedule of Catholic Masses
Aug. 16, 7:30pm Ringling
Aug. 23 7:30pm Ringling
Aug. 30 7:30pm New College
Sept. 6th 7:30pm Ringling
Sept. 13th TBD
Sept. 20 7:30pm Ringling
Sept. 27 7:30pm New College
Oct. 4th 7:30pm Ringling
Oct. 11 7:30pm New College
Oct 18 TBD
Oct. 25 7:30pm Ringling
Nov 1 7:30pm New College
Nov 8 7:30pm Ringling
Nov 15 7:30pm New College
Nov 22 7:30pm Ringling
Nov. 29 TBD
Dec. 6 7:30pm Ringling
To join our email list or for more information please email Fr. Matt Grady at: mjgrady@icloud.com