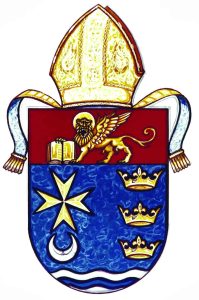 The coat of arms of the Diocese of Venice has a background color of blue. This is to honor Mary, Our Lady of Mercy, co-patroness of the Diocese. The "charges" or symbols which are placed on this background are simple, but allusive.
The cathedral is dedicated to the Epiphany of our Lord. In heraldry this mystery is traditionally represented by three crowns, which appear in the Diocesan coat of arms. These symbols represent the three astrologers or wise men who sought "the newborn king" and came "to pay homage" (Mt. 2:1-12). In the Gospel story, the three searchers moved toward a star and eventually "found the child with Mary, his mother." Here, the star of faith is replaced by a Maltese cross, an artistic proclamation that Jesus, who died on the cross for us, is Lord and Savior.
The silver crescent, so often used in ecclesiastical heraldry to represent Our Lady, emphasizes her spiritual role as Mother of the new Church of Venice. The wavy lines of blue and white or silver at the base of the shield represent the waters of the Gulf of Mexico, which border the Diocese.
The upper portion of the shield, or chief, displays in gold and on a red background the ancient, winged lion of Saint Mark the Evangelist, co-patron of the Diocese. This section is intended as a mark of gracious deference to the patriarchal Church of Venice, Italy. But there is one significant difference: whereas the ancient arms had the Latin words for "Peace to you Mark, my evangelist" written on the pages of the open book, here thepages are blank to symbolize a new history, a new story of the relationship between God and His People, that will be written in the hearts of the faithful in the Diocese of Venice in Florida.
The colors used in this new coat of arms are taken from the shields of the Archdiocese of Miami and the Diocese of St. Petersburg and Orlando, from whose territory the Diocese of Venice was formed.
Interpreted for modern times, the crowns of this Epiphany tableau might represent all the People of God in the new Diocese of Venice – "a chosen race, a royal priesthood, a holy nation," (1 Pet. 2-9) – moving on their spiritual pilgrimage toward God and relying on the intercession of their patrons, Our Lady of Mercy and Saint Mark.