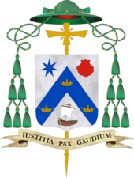 In accordance with the heraldic tradition of the Roman Catholic Church, the Coat of Arms of a Bishop is composed of four elements: a shield with its charges (symbols); a golden processional cross; a green hat (galero) with twelve attached tassels; and appearing below everything, a scroll with the motto written in black.
For his Coat of Arms, His Excellency Bishop Dewane has selected a design that reflects his life and his heritage. A silver shield has been chosen and symbolizes transparency, truth and finally justice. The chevron, an antique heraldic figure, here in blue, symbolizes the truss of a building, that part under which the community, the Church, assembles. In the Coat of Arms of Bishop Dewane the chevron is charged with three golden crowns to recall the Cathedral of Venice, dedicated to the Epiphany. The crowns, taken from the Coat of Arms of the Diocese of Venice the wise men, astrologers who followed the star in search of Jesus Christ. The blue used for the chevron symbolizes the separation from worldly values and the ascent of the soul toward God.
The Blessed Virgin, under whose protection Bishop Dewane places his new pastoral ministry, is symbolized on his Coat of Arms by a blue star. Further this recalls the Immaculate Conception, Patroness of the United States as well as the Marian devotion of Pope John Paul II, whom Bishop Dewane served while working for the Holy See.
The shell is a figure used by Pope Benedict XVI in his coat of arms and expresses the filial devotion of Bishop Dewane to the Holy Father. In addition, the shell is the symbol of the pilgrim, therefore recalling the pilgrimage of Holy Mother Church on earth. The shell is in red, the color which signifies love so as to underline the importance of love and charity on our pilgrimage on earth.
The sailboat is the symbol of the boat of Peter, the church, which is evidenced by the head of the mast shaped as a Cross. Also this boat appears in the Coat of Arms of the Diocese of Green Bay, the place of birth of Bishop Dewane and the Diocese of his priestly ordination. For these reasons it is placed at the base of the shield.
For his motto, the Bishop has adopted a phrase that describes his years of joyfully working in the area of justice and peace since his priesthood ordination and particularly the past fifteen years in his service to the Holy See. The passage on which the motto is based comes from the Letter of Saint Paul to the Romans 14:17: "… the kingdom of God is not food or beverage, but justice (iustitia), peace (pax) and joy (gaudium) in the Holy Spirit."