In a post-Roe v. Wade world, there is still a great need to stand in prayerful witness for the unborn. The fall of Roe was just one battle; there are many more ahead in the quest to protect innocent human life.

There is much excitement about the recent Supreme Court decision on the new Texas law severely limiting abortions, but the faithful must remain vigilant, as has been witnessed by the many states proposing or passing legislation making abortion available at various stages of life.
One way to stand as a witness for life is to participate during the fall campaign of 40 Days for Life which begins on Wednesday, Sept. 28, 2022, and runs until Sunday, Nov. 6, with local vigils taking place in Sarasota and Fort Myers.
40 Days for Life is an internationally coordinated 40-day campaign that aims to end abortion locally through prayer and fasting, community outreach, and a peaceful all-day vigil in front of abortion mills. For those unable to be present in front of an abortion facility, they are encouraged to pray from home and fast for the end of abortion. Others are welcome to come to the sidewalk for as short or as long as they wish.
Paula Hellenbrand, 40 Days Fort Myers Co-Coordinator, has been leading the fall prayer vigil in Fort Myers for 12 years with her husband Rick.
"Honestly, with all of our prayers. I never thought we would be on this sidewalk post-Roe v. Wade," Paula Hellenbrand said while trying to hold back tears during a kickoff event on Sept. 13. "Never! It makes me cry now because I can't believe it. When we think this isn't worth our time, or the heat or rain discourage us, know we are making progress. God hears our prayers."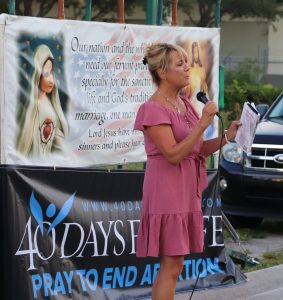 Having prayerful witnesses in front of abortion facilities serves as a powerful message of hope for those mothers who may think abortion is the only alternative they have for their unborn child, explained Co-Coordinator Rick Hellenbrand. Participants also brought diapers to be given to needy moms through area pregnancy resource centers.
Also speaking during the Fort Myers 40 Days kickoff was Terry Beatley, the founder of the Hosea Initiative. Beatley shared a story of the "Abortion King" Dr. Bernard Nathanson. Beatley explained how Nathanson co-founded the National Abortion Rights Action League (which has since been renamed to NARAL Pro-Choice America) and contributed to the momentum of the Roe v. Wade decision in 1973.
"He admits to unleashing abortion on America and then saw a baby on an ultrasound and quickly resigned from NARAL," Beatley said. "The science converted the father of abortion, who trained Planned Parenthood doctors. He became 100 percent unequivocally pro-life and could not figure out any reason why any woman would have to kill her baby."

The Diocese of Venice has been involved with 40 Days for Life since the beginning with vigils taking place in the fall – to coincide with October, Respect Life Month – and in the spring – during Lent.
The success of 40 Days for Life has been seen locally when women approach vigil participants and tell their story of how their mind was changed by those present who were there to pray for their unborn child. More than 150 cases of lives being saved have been documented.
The Fort Myers prayer vigil is on the public right-of-way in front of Planned Parenthood at 6418 Commerce Park Drive, Fort Myers. The Fort Myers vigil takes place from 9 a.m. to 6 p.m., daily.
In Sarasota, the vigil is 7 a.m. to 7 p.m. daily outside the regional headquarters of Planned Parenthood, 736 Central Ave. A kickoff event will be held at 10:30 a.m., Sept. 28, in the parking lot of the Community Pregnancy Clinic (CPCI), around the corner from Sarasota Planned Parenthood. The guest speaker will be Lisa Rowe, CEO of Support After Abortion, which provides hope and healing to women and men who have experienced pain and grief after an abortion and don't know where to turn.
Participants in the prayer vigil will join other like-minded individuals in communities around the nation and world. Some commit to taking part for a few minutes, an hour, or all day as they stand in the public right-of-way. Appropriate signs will be provided at both sites but are not needed to stand and pray. Check with your Parish to learn what hours they have committed to 40 Days for Life, as many often commit to several days of prayer on the front lines.
40 Days for Life Sept. 28 to Nov. 6
Sarasota
When: 7 a.m.-7 p.m. daily,
Where: 736 Central Ave.,
Contact: Rich at  40DFLSarasota@gmail.com
Fort Myers
When: 9 a.m.-6 p.m. daily,
Where: 6418 Commerce Park Drive,
Contact: Paula and Rick at 40DaysforLifeFM@gmail.com