Praying for life and the unborn has taken on a renewed urgency in recent months with the hope that comes with the possibility that the landmark Roe vs. Wade U.S. Supreme Court decision might be overturned soon.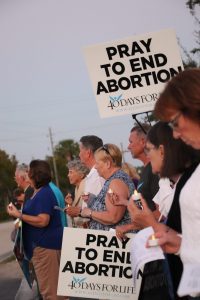 "These are exciting times," said Janice Cooper of Resurrection Parish in Fort Myers, as she took part in the opening Candlelight Prayer Vigil for the 40 Days for Life spring campaign on March 1, 2022, in front of a Planned Parenthood abortion facility. "Years of praying may be coming to fruition."
Father Ricky Varner, Pastor of St. Katharine Drexel Parish in Cape Coral, opened the vigil and remarked that those gathered were peacefully joined together in prayer to promote a culture of life and love. Father added that it is indifference to the moral teachings of Christ which has created a culture where many have no regard for innocent human life, particularly of the unborn.
"We are here because of how sacred life is – babies, human beings inside their mother's womb, who belong to God," Father Varner continued. "Our prayers for life rise up throughout the world as part of 40 Days for Life. Jesus Himself showed us that prayer and fasting are the most effective forces against evil."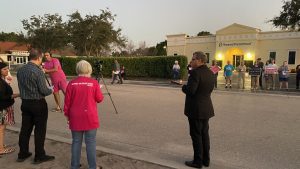 Also speaking during the opening vigil were Paul and Ivette Ladato of the Christian TV Network SWFL. The vigil was livestreamed through Christian TV Network and will also be available nationally on the station which has affiliates throughout the country.
The Prayer Vigil in Fort Myers kicks off the spring campaign which officially runs from March 2 to April 10. A campaign in Sarasota will also be taking place throughout Lent.
This year, the 40 Days for Life has 588 cities participating in what is described by 40 Days Co-Founder and CEO Shawn Carney as one of the largest mobilizations of pro-lifers in history. The Diocese of Venice has been active in the 40 Days for Life movement since its inception in 2007.
The excitement for change in the Pro-Life movement comes from a pivotal Mississippi abortion case, Dobbs v. Jackson Women's Health Organization, that many see as the best chance to change the law that has led to more than 62 million abortions across the United States. A decision in the case isn't expected until the end of the court's term in June.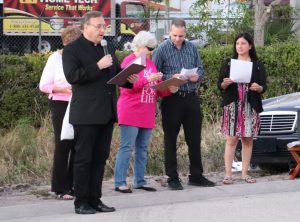 Anyone interested in standing peacefully and praying during local 40 Days for Life vigils will do so in the public right-of-way outside Planned Parenthood in Fort Myers or Sarasota.
The Fort Myers prayer vigil is 9 a.m.-5 p.m., Monday to Saturday, at 6418 Commerce Park Drive. The Sarasota prayer vigil is daily from 7 a.m. to 7 p.m. at 736 Central Ave.
Check with your local Parish to learn the days they are committed to standing up for life. Most participants are encouraged to spend at least one hour in silent prayer in front of a local abortion facility seeking an end to legalized abortion in the U.S.
With a landmark case now before the U.S. Supreme Court, there has never been more reason for hope and prayer. For 40 Days for Life information on the two Diocesan locations, please go to www.40daysforlife.com/sarasota or www.40daysforlife.com/fortmyers.
For more information about ongoing efforts to defend life from conception to natural death within the Diocese of Venice, please visit www.dioceseofvenice.org/respectlife or contact Jeanne Berdeaux at 941-484-9543 or berdeaux@dioceseofvenice.org.