For three days each summer there is a gathering of men of different ages and backgrounds, each dedicated to a common goal – continuing their spiritual journey with a focus on becoming a Diocesan priest.
Some are in a seminary college formation program, while others are in advanced programs farther along in their journey, with potential Ordination to the Priesthood not too far off.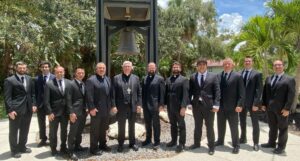 During the annual Diocese of Venice Seminarian Convocation at Our Lady of Perpetual Help Retreat Center in Venice (July 17-19, 2023), the men spent time praying, reflecting on their choice of vocation, while also sharing their thoughts and their personal journey with others who are on the same path.
Bishop Frank J. Dewane celebrated a Mass for the seminarians on July 19. During the Mass, Bishop Dewane encouraged the men to continue to hear the call to holiness of Our Lord in their prayers, while reflecting Christ in the life they live.
The Bishop stressed the need to continue to grow in their relationship with the Lord, a lifelong process which will serve to guide them as they continue on their discernment journey.
The multi-day retreat occurs late in the summer as a time of prayer and reflection before each man returns to his respective seminary. During the week the seminarians were led by Father Shawn Roser, Diocese Vocations Director.
With the group assigned to four different seminaries, the gathering is an opportunity for those early in their formation process to hear from those who are further along. This mentoring aids in building a bond amongst the group, aiding each to appreciate that the discernment process is not only accomplished in the classroom but through the entire experience in seminary, during Parish pastoral assignments, and in their personal life.
A recent highlight for the group was witnessing the July 15 Ordination to the Priesthood of Fathers Alejandro Roldán and Daniel Scanlan, with many taking an active role as altar servers.
Diocese of Venice Seminarians are supported through the Diocese Catholic Faith Appeal, the Knights of Columbus, Venice Diocesan Council of Catholic Women and the generosity of the faithful.
Parishioners from around the Diocese are encouraged to help support the seminarians in their studies and choice of vocation through prayer and financial assistance. Donations can be made by visiting https://dioceseofvenice.org/ways-to-give/ or sent to: Diocese of Venice, Office of Vocations, 1000 Pinebrook Road, Venice, FL 34285.
For more information about the seminarians or Vocations, contact Father Shawn Roser at roser@dioceseofvenice.org or 941-486-4720, or visit www.venicevocations.com.