Bob Reddy – Florida Catholic
11/25/2018
The holidays can be a stressful time for everyone but more so for those who are grieving the loss of a loved one. The rush of memories can make it feel as if the loss is happening all over again.
To help the bereaved, the Office of Family Life offered three "There is Hope: Surviving the Holidays" workshops led by Deacon Henry deMena of St. Agnes Parish in Naples, who has extensive training experience as a bereavement counselor.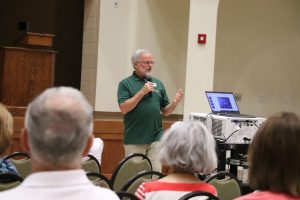 Deacon deMena tried to help the bereaved make sense out of what doesn't make sense: grief. The workshops took place Nov. 13 at St. Leo the Great Parish in Bonita Springs, and Nov. 15 at Epiphany Cathedral in Venice and Incarnation Parish in Sarasota.
Deacon deMena spoke about how the grieving process is an emotional roller coaster and spiritually one can find peace at times and then find anger. None of this is unusual. While prayers can bring comfort, they cannot magically take pain away.
"As humans we might feel God has abandoned us when trying to deal with the loss of a loved one," Deacon deMena said. "It's OK, because God has broad shoulders. He can handle you being upset with Him. The more you can pray and talk to the Lord, the easier it will be to help Him find you. God wants to share His love and comfort with us."
The holidays are difficult because anxiety and stress levels are running high for everyone. Anything that can be done to reduce the effort and stress of the season is recommended.
The first Thanksgiving or the first Christmas after a loss is a stark reminder for the bereaved that the deceased is no longer there in a specific and powerful way. Fortunately, as time passes the recovery for the bereaved from the holiday is quicker.
"You need to expect and accept the pain of the day," Deacon deMena said of holidays. "Feel what you need to feel, not with others want you to feel."
Deacon deMena offered a variety of suggestions on how to get through the holidays by planning ahead for any activity to help avoid surprises. One thing not to do during the holidays is pretending everything is the same or fine, or to not talk about the loved one as if they never existed. This actually is more painful for the bereaved.
Other topics included common grieving feelings and misunderstandings; bereaving time frames; holiday bereavement for children/teens; coping techniques; and the power of prayer.
Workshop attendees shared their own stories of grief and the challenge of dealing with well-intentioned friends and family who are offering advice.
One gentleman from Bonita Springs explained how he is trying to cope with the recent loss of his wife of more than 50 years. "There is a hole in my life. Thanksgiving and Christmas just seem so overwhelming."
Deacon deMena stressed the need for the bereaved to express their emotions and not hide them. He suggested several ways to incorporate the memory of the lost loved one in some way at a gathering can overcome some difficulties friends or family might have when bringing up the deceased.
"Doing the holidays different is okay," the Deacon said. "Things are not the same. There is no reason to act as if they are."
Deacon DeMena will be holding an Hour of Remembrance Prayer Vigil at 7 p.m. on Dec. 12 at St. Agnes Parish Chapel, 7775 Vanderbilt Beach Road, Naples. This is an hour before the Lord in prayer and music for all who are suffering or grieving in any way.
For more information about bereavement counseling, please contact Deacon deMena at deaconhenry@stagnesnaples.org.
Training Session
For those who are interested in becoming a Parish bereavement volunteer, the Diocese Office of Family Life is hosting a training called "There is Hope: Bereavement Training." This will focus on training parish bereavement volunteers and those who speak with the bereaved and is not a workshop to help someone who has recently lost a loved one.  Deacon deMena holds a Master's Degree in Counseling with extensive training and experience in Bereavement. The training will be held Jan. 24-25, 10 a.m.-4 p.m., both days, at St. Ann Parish, 985 3rd St. S., Naples. The cost is $25 per person which includes lunch for both days and materials.  More information can be found at www.dioceseofvenice.org/calendar  The registration link is: https://dioceseofvenice.regfox.com/bereavement-training-jan2019  and please register by January 21.