Susan Laielli – Special to the Florida Catholic
For the nearly 400 people who joined Bishop Frank J. Dewane at February 23 Mass in Appreciation of Volunteers at Our Lady of Light Parish in Fort Myers, it was a day to celebrate their work in the Diocese of Venice Parishes, Missions and other entities.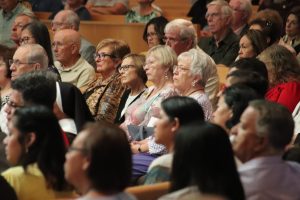 For one St. Ann Parish volunteer, retired nurse Denise Delaney, who now serves as an Extraordinary Eucharistic Minister at a hospital in Naples, she admits it took some prompting from both the Holy Spirit and her husband to return to the hospital setting, but she is very grateful for the nudge.
"I wasn't sure if I could transition from the nursing side of the hospital to being in ministry, but my husband said, 'How long are you going to wait before you do this?' – then I saw a St. Ann bulletin ad with heartfelt encouragement expressing the need for Extraordinary Eucharistic Ministers at the hospital," Delaney said.
Delaney said bringing the Eucharist to the hospital is 'humbling', , who admits to finding the work very rewarding to be included with families during very sensitive times.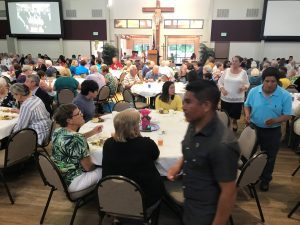 Bishop Dewane was the Principal Celebrant of the Mass, and he was joined by priests from across the region who were there to support the volunteers.
During the Mass Bishop Dewane acknowledged all the various roles making up a Church family and encouraged each to continue working as a Missionary Disciple, saying the work is symbolic of a deeper meaning and message. Those roles can vary dramatically from helping at a soup kitchen to teaching a young person learn how to read. Each volunteer's contribution is valued for their presence; not only by the Universal Church, but by those who they assist.
"The Holy Father reminds us that Volunteers are like John the Baptist – by reaching out, going out to those in need, you prepare the way of the Lord for them," Bishop Dewane said. "As volunteers, you act without personal interest being prompted by the Holy Spirit, and it is truly humbling to stand before you."
Members of the Our Lady of Light Parish Choir sang beautifully during the Mass. By the way, they are all volunteers themselves. One chorister was Colleen Miley, who started singing in the Parish in 1993 when her husband passed away.
"It's important for people to be engaged in something that's not only good for you, but good for others as well," Miley said.
Before the afternoon luncheon in the Parish Hall where a slideshow played featuring volunteers from across the Diocese, Bishop Dewane took photographs with each of the Parish groups in attendance.