One of the things which makes Catholic Charities Diocese of Venice Inc. unique is how much of an impact its services and programs have on local communities. During the 2021 fiscal year a dedicated group of workers and volunteers helped improve the lives of 224,868 individuals and families with more than 30 specialized programs that are focused on providing aid improving lives.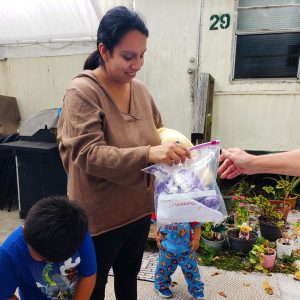 The 2021 Catholic Charities Annual Report was released in March 2022 detailing the dollars spent and reflecting on the stories of the lives that were positively impacted through the social service agency in the 10-county area.
Catholic Charities was presented with a new set of challenges in 2021. Eduardo Gloria, Interim CEO/Chief Operating Officer of Catholic Charities, said in 2021, the Catholic Charities Board of Directors recognized that areas of greatest need had shifted significantly due to the pandemic.
"Working closely with the Leadership Team, the Board focused on new strategies to best serve our community," Gloria said. "The most urgent need was housing. In 2021, Catholic Charities provided shelter to 1,534 individuals, up 117 percent from the previous year, and provided food to 209,784 individuals, increasing food pantry services by 33 percent. Human trafficking, immigration, and youth services were also concerns that intensified during the year."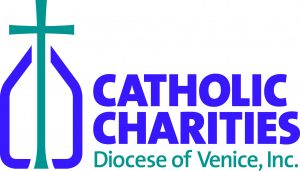 Catholic Charities, Inc., Diocese of Venice, reevaluated the areas of need and created a new set of priorities to ensure that all of the services offered remained on target to fulfill the changing needs of our community. These priorities were established to continue the mission of Catholic Charities and offer services to have the most significant impact.
To accomplish this, during the 2020-2021 fiscal year Catholic Charities focused its expenses of $9.1 million on six priorities: food security, housing, antihuman trafficking, behavioral health, immigration and youth formation.
Bishop Frank J. Dewane remarked that the work of Catholic Charities was part of a collective effort in support of the community. "While the pandemic took its toll on all of us, we've also witnessed unexpected wonders responses, such as our community's continued generosity, even when faced with their own increased burdens. Our volunteers and donors never gave up and offered their time and support in abundance."
When breaking down the numbers of those helped by Catholic Charities in the 2021 fiscal year, the results have been remarkable:
209,784 – pantry and food services provided to individuals
$1,582,255 – dollars of direct assistance provided
5,058 – behavioral health services provided
3,653 – services for victims of human trafficking
1,538 – families, children and individuals housed
3,820 – calls for help
5,662 – services to seniors
While the numbers are impressive, behind each statistic is a real person who is struggling struggled and when they turned toward Catholic Charities for help.
Here are remarks from some of the people being helped:
"I am beyond grateful to Catholic Charities for going the distance. Through the Rapid-Rehousing Program, I was able to get affordable housing and Housing Authority benefits. Once I moved into my new home, the Senior Support program gave me new bedsheets that were donated to the program, as a housewarming gift! Thank you, Catholic Charities, for making sure I have sanctuary in my life." – Maria, Senior Support Services and Rapid-Rehousing
"It has only been a few months since I have moved into Our Mother's House, but it has already been life changing. After years of being taken advantage of and being abused, I took a leap of faith and found myself in the comfort of Our Mother's House. In a short amount of time, my son and I are both thriving, and I have found my voice again. Our Mother's House has brightened our future and restored my belief in humanity." – Bethany, Our Mother's House
"I arrived in this country from Venezuela in June 2016. In my country, I was a lawyer, but I have been working as an Uber driver here. Since I don't speak English well, it's been difficult getting back in my field, but Catholic Charities helped me!

In

Through the Empowerment Program I was able to take English classes and study Immigration. They gave me the encouragement I needed. I'm very grateful that I can finally see my dreams coming true." – Carmen, Empowerment Program
Gloria said that the Catholic Charities team is committed to positively impacting the community. They plan to continue to respond quickly and pivot to meet any new demands.
To read the full 2020-2021 Annual Report, or to support the programs, please visit www.catholiccharitiesdov.org.