A bright white building along Michigan Avenue in the Dunbar and Harlem Heights sections of Fort Myers has been a beacon of hope in the community for nearly 35 years.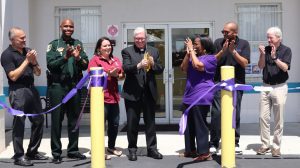 The African Caribbean American Center (AFCAAM Center), a program of Catholic Charities Diocese of Venice, Inc., has been a stalwart since 1988, providing after-school tutoring and mentoring in a positive and safe environment.
A temporary setback caused by the global pandemic turned out be a renaissance for AFCAAM allowing necessary renovations of the facilities and the implementation of new programming to ensure that the center continues to be a great resource for the community.
Bishop Frank J. Dewane and other dignitaries took part in a community celebration of the reopening of the AFCAAM Center on Sept. 17, 2022. The celebration included a block-party atmosphere with a blessing and ribbon-cutting, as well as food trucks, bounce houses, dunk tanks, live music, and games. Singing legend Verceal Whitaker, formerly of The Platters, also performed live.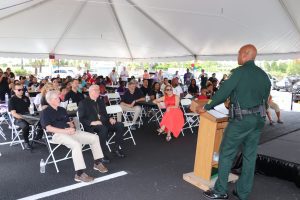 Bishop Dewane said shuttering AFCAAM during the pandemic was a difficult but correct decision, and the program reopens with much-improved facilities and the same mission; to offer educational support for children.
"Children are a gift for the community," the Bishop said. "Through Sacred Scriptures we are challenged by the Lord to help build up the gifts of the children and it is clear we are doing that here every day at AFCAAM. This is done through the good works of Catholic Charities, the staff, volunteers and all of the community partners that come together for this important program."
Eduardo Gloria, Chief Executive Office of Catholic Charities, said the two-year closure offered the opportunity to start a new chapter for AFCAAM.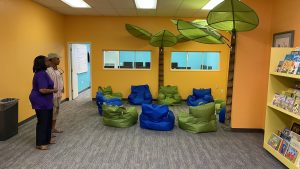 "Today we are celebrating a return of a great program to this community," Gloria said. "We feel AFCAAM is an incredible resource for the children and families. Catholic Charities is proud to be part of the incredible achievement for this great community."
Originally founded in 1988 by Dominican Sisters, the AFCAAM program gets its unique name from the people it serves – African, Caribbean and American. The name, and program, reflect the great diversity of this community. The AFCAAM Center was remodeled to include a tropical-themed reading room, counseling space, classroom space, a computer lab with more than 50 computers and other improvements that make AFCAAM a positive setting for children to learn and grow.
Partners in the program include the Galeana Family Foundation, Lee County Sheriff's Community Response Unit and Lee County Human and Veteran Services.
Anna Callwood, AFCAAM's new program director, said there are currently 33 students taking part in the afterschool program with plenty of room for more.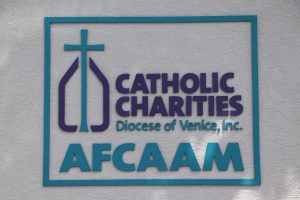 "This is a safe and fun place to be," Callwood said. "It is a place where young minds are encouraged to dream and to thrive academically, socially and physically; Tutoring, reading, reading comprehension and writing skills are implemented to ensure each child improves his or her academic and social performance. For the middle to high school-aged youth, they are mentored, encouraged and engaged as they mold their personal lives in preparation for life beyond."
Four of the after-school program students went on stage to greet everyone who came out to support the reopening of AFCAAM.
For more information about the AFCAAM Center, visit www.catholiccharitiesdov.org, or contact Anna Callwood at 239-461-0233 or anna.callwood@catholiccharitiesdov.org. The AFCAAM Center is located at 3681 Michigan Avenue, Fort Myers, FL 33916.