The 2022 Diocese of Venice Catholic Charismatic Renewal Conference is just a week away and the time to register is now.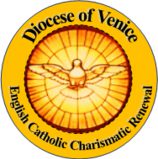 Starting promptly at 10 a.m., at St. John XXIII Parish, 13060 Palomino Lane, Fort Myers, the Conference includes praise and worship by Ignite Our Hearts, led by Don Sansone, personal prayer ministry and powerful teachings from Father Anthony Lukka and Dr. John Gresham. Bishop Frank J. Dewane will celebrate the 4 p.m. closing Mass. The theme for the day is "Come and You Will See." The cost is $30, and includes lunch, snacks and refreshments. No walk-ins please. Registration is at www.dvccr.org.
Renee Marazon, President of the Diocese of Venice English Catholic Charismatic Renewal, said the Conference is for every Catholic, whether they are member of a local Charismatic Renewal group or not.
"This Conference is for you if you resolved to grow closer to God in this New Year," Marazon said. "It is also for you if you desire to not just know about Jesus but to really know Jesus; if you want to experience the power of the Holy Spirit prompting throughout your day; and if you are seeking healing for yourself and those you love, for sure this Conference is for you."
Father Lukka is a Parochial Vicar of the Our Lady of Lourdes Parish in Venice and was previously assigned to St. William Parish in Naples and has been involved in Charismatic Movement for the past 15 years. Before coming to the Diocese of Venice, Father Lukka served in the Diocese of Marquette, Michigan, and in the Diocese of Kanjirapally, India.
Gresham brings a wealth of experience to all Catholics, having recently retired as Director of the Diocese of Venice Institute for Catholic Studies and Formation. In his academic career, Gresham has worked in a variety of roles –theology professor, librarian, and administrator —at such places as Franciscan University of Steubenville, Paul VI Catechetical Institute, Kenrick-Glennon Seminary, and Sacred Heart Major Seminary. His publications include "Jesus 101: God and Man," "Holy Spirit 101: Present Among Us," and "Wonder and the Prayerful Study of Theology."
For anyone interested in encountering Jesus in new ways, the 2022 Diocese of Venice Catholic Charismatic Renewal Conference may be just the answer for you. Registration is at www.dvccr.org.