"Incredible!" "Life-changing!" "Impactful!" "Educational!" "Just what we needed!"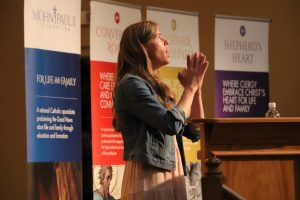 This high praise was offered by some of the 120 couples from across the Diocese of Venice – newlyweds to those married more than 50 years and everywhere in between – who took part in one of the two simultaneous "Together in Holiness" Marriage Enrichment Conferences on Oct. 2, 2021.
Offered by the Diocese of Venice Office of Family Life in partnership with the St. John Paul II Foundation of Houston, Texas, the Conferences took place at St. Thomas More Parish in Sarasota and St. Agnes Parish in Naples. And were built around the theme: "Family, a School of Love."
The purpose of the Together in Holiness program is centered "on serving couples who are in the midst of the real life, everyday grind of marriage and family, and aren't merely trying to survive their marriage but are looking for a way to thrive in their marriage," explained Charlotte Sacco, a Program Coordinator who led the Sarasota Conference for the St. John Paul II Foundation.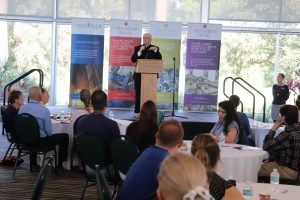 Bishop Frank J. Dewane opened the Conference in Sarasota noting the importance of the attending and that such offerings will become more frequent "as marriages and families are the backbone of who the Church is; who the Church always has been; and who the Church will be going forward."
Bishop Dewane said he was humbled to stand before the couples and the vocation they choose to live which "takes a tremendous amount of grace and commitment. You live that out in showing your love as you go out into the community and Parishes by the example you give, by the life you live. This is seen in the dedication you have one to the other and as the family unit. You give a tremendous example as a witness to who Jesus Christ is to you both."
At the closing Mass in Naples, the Bishop had the Conference participants stand to be recognized and then blessed them. He added that the power of marriage is that it is a bond between man and woman, unified by God.
Lisa Cotter, who was the keynote speaker at both Conferences, said that in order to build a Domestic Church, the goal of parents in this crazy world must be to recognize how much children need them. But it is more than that, it is "how much our children need us to show them the joy of living the Catholic Faith. And not just that it is this thing you have to go to for Mass on Sunday, but the joy and peace that comes with living within the designs and influence of God. You want your kids to be happy; but if you really think about it, what you want them to be holy and closer to the Lord so they have peace and joy in their lives that surpasses their circumstances."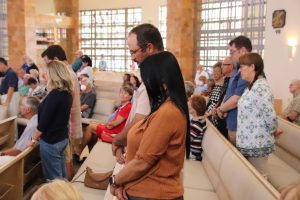 Cotter provided parents with six focused concepts to grab onto and run with to make their home a "School of Virtue." These included: be intentional; tell stories; start small; live community; pray; and evaluate frequently.
"You have to answer the question; how do we make our home a place where our children learn how to live so they can gain freedom to live a virtuous life?" Cotter said. "This is needed even more as the world becomes more secularized."
Additional speakers from the St. John Paul II Foundation challenged the couples to work together to address the needs of the family creating goals for helping to build up the "School of Virtue" within their individual families.
Two Diocesan priests also address the Conference – in Sarasota, Father Eric Scanlan, Pastor of Incarnation Parish in Sarasota, and in Naples, Father Murchadh O'Madagain, Pastor of St. Vincent de Paul Parish in North Fort Myers.
Diocese Family Life Coordinator Carrie Harkey said that bringing in the St. John Paul II Foundation to the Diocese was part of the Bishop's continued emphasis on better forming married couples to live out their vocation in holiness and joy.
Harkey added that she was thrilled with this initial Conference and the positive response from participants and said that similar offerings will be made available in the future to all couples who desire to grow in holiness and strengthen their marriage and family life.