A group representing the Diocese of Venice took part in a national conference on evangelization and catechesis the week of July 11-15, 2022, at Franciscan University, Steubenville, Ohio.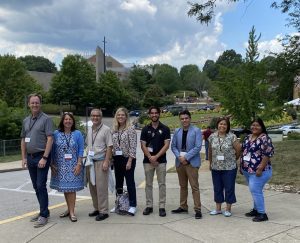 Franciscan University's 27th annual St. John Bosco Conference for Evangelization and Catechesis, with a theme of Jubilee, took inspiration from Luke 4:18-19, "The Spirit of the Lord is upon me, because he has anointed me to bring good news to the poor … to proclaim the year of the Lord's favor."
The conference included an opening keynote address from Bishop Donald J. Hying, of the Diocese of Madison, Wisconsin. There were daily opportunities for participation in the Holy Sacrifice of the Mass, numerous workshops, and other featured speakers each evening.
The Diocesan delegation was led by Carrie Harkey, Diocese of Venice Coordinator of Family Life. Other participants included: Leily Lopez Ramirez, catechist at Our Lady Queen of Heaven Parish in LaBelle; Andres Prias, Director of Religious Education at Our Lady of Grace Parish in Avon Park; Angelica Pena, Director of Religious Education at Our Lady Queen of Heaven Parish; Natalie Campbell, Director of Religious Education at St. John the Evangelist Parish in Naples; Hector Salazar, Director of Faith Formation at St. Peter the Apostle Parish in Naples; as well as Joshua Carlson and Jim Whealan, theology teachers at Bishop Verot Catholic High School in Fort Myers.
"This is the best conference in the nation," Harkey explained. "It served as a chance for each member of the delegation to hear from the finest in the field, network with others to hear about and share best practices, learn of new initiatives, all while being spiritually enriched ourselves."
Each participant can take part either in a open track (attending whichever workshop fits their needs), or a focused track, which included youth outreach, Catholic schools and Hispanic outreach.
After the conference, Campbell, from St. John the Evangelist in Naples, said she "learned so much, as well as felt renewed in my own faith and mission."