Bob Reddy – Florida Catholic
Bishop Frank J. Dewane celebrated Mass for the Knights and Dames of the Equestrian of the Holy Sepulchre of Jerusalem Oct. 26 at Epiphany Cathedral in Venice.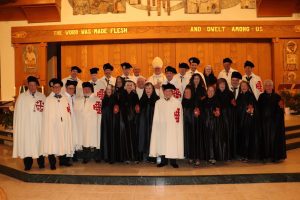 Bishop Dewane praised the Knights and Dames for their commitment to the protection of the Holy Land and for having courage to stand up as examples of men and women of faith who through their thoughts and hearts commit to service in response to the call of the Lord.
The annual Mass is held as close as possible to the Order's Patroness Feast Day, Our Lady of Palestine, which is Oct. 25 and was approved by the Holy See in 1933. The Feast Day asks all to join in praying to the Virgin Mary for special protection of Palestine and the holy city of Jerusalem.
The Equestrian Order is the only lay institution of the Vatican State charged with the task of providing for the needs of the Latin Patriarchate of Jerusalem and for all the activities and initiatives which are necessary to support the Christian presence in the Holy Land. The Order is present in nearly 40 countries worldwide.
The Order of the Holy Sepulchre exists within the local dioceses and works closely with the Universal Church in unity of prayer and communion of purpose. Knights and Dames of the Order care greatly for the fate of this land, and endeavor to sustain and aid the charitable, cultural and social works and institutions of the Catholic Church in the Holy Land.
In exercising its mission in support of the Christians in the Holy Land, the Order of the Holy Sepulchre spiritually and financially supports structures pertaining to the Latin Patriarchate of Jerusalem (schools, seminars, centers), both through stable and continuous projects as well as projects that can vary from year to year depending on the needs.