Finding adequate transitional housing is one of the greatest challenges faced when rescuing survivors of human trafficking.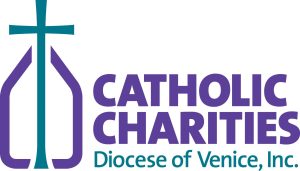 Through the Anti-Human Trafficking Victim Assistance Program, Catholic Charities, Diocese of Venice Inc. works closely with rescued sex and labor trafficking survivors to place them in a safe location, providing an important "piece of mind" while they transition back into society.
To help support this effort, it was recently announced that Catholic Charities Diocese of Venice Inc. received a $500,000 housing assistance grant from the Office for Victims of Crime, a component of the U.S. Department of Justice's Office of Justice Programs, to provide safe, stable housing and appropriate services to victims of human trafficking.
The grant is intended to provide up to 24 months of transitional or short-term housing assistance for victims of trafficking, including rent, utilities and related expenses, such as security deposits and relocation costs. The grant will also provide funding for support needed to help victims locate permanent housing, secure employment and receive occupational training and counseling.
"This grant provides hope for those we help on a daily basis and ensures a better future by providing a sense of stability and security," states Catholic Charities Anti-Human Trafficking Victim Assistance Program Director Erika Pineros. "This funding will allow survivors to focus on their well being without the worry of homelessness; it serves as a stepping-stone towards self-independence."
"This awarding of the grant is outstanding news and just reinforces what we already knew, Catholic Charities is doing incredible work in serving the victims of sex and labor trafficking," said Bishop Frank J. Dewane. "Human trafficking is a heinous crime that deprives its victims of the most basic human rights and the recognition of their human dignity. The reality is that this takes place within the Diocese of Venice, therefore it is our duty as Catholics to educate the public about trafficking, to stop the traffickers and to help those who are rescued to the best of our ability."
Bishop Dewane has been a strong proponent of this Catholic Charities program since it began in 2009 and has supported expansion of services through the years to include the 2017 purchase of the first human trafficking transitional housing in Lee County. Just since the start of 2020, through its program, Catholic Charities has assisted 73 victims of human trafficking.
Because the threat of homelessness is always a concern for victims of human trafficking, the existing transitional housing operated by Catholic Charities in the region is almost always full, Pineros said. Other housing options became scarcer due to health and safety requirements brought on by the ongoing global Pandemic, so the timing of the grant is fortuitous.
Under this grant, the Catholic Charities program will expand its current services to provide short-term housing services for survivors of human trafficking throughout 10 counties of the Diocese. Catholic Charities will secure one- and two-bedroom apartments to serve individuals and families who have been victims of human trafficking.
While the grant covers some expenses, Anti-Human Trafficking program provides a wide range of comprehensive supportive services for victims of human trafficking. These additional services, which rely on the generosity of donors, include: Supplemental Nutrition Assistance Program (SNAP) application guidance, immigration support, mental health services, transportation assistance, access to food pantries, and more. The case management offered throughout the program connects clients to food and clothing, help with personal finance, cultural orientation, safety planning, and more.
The Anti-Human Trafficking program also has agreements and referral arrangements with area agencies that provide emergency shelter, medical, dental, and psychiatric care, childcare, education and employment readiness, legal immigration services, documentation assistance, and more.
While the Department of Justice grant will assist Catholic Charities in cotonuuing to provide housing for victims of human trafficking, expenses for other services are not covered and the needs are great. To support the Catholic Charities, please visit www.catholiccharitiesdov.org and to learn more about the Anti-Human Trafficking Assistance Program you can contact Erika Pineros at erika.pineros@catholiccharitiesdov.org.