It has been eight months since Hurricane Ian struck Southwest Florida with devastating winds, storm surge and rain and it doesn't take much searching to realize many continue to struggle with the recovery.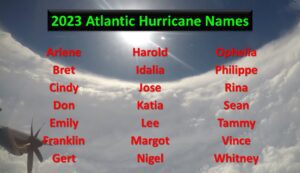 This is true in the Diocese of Venice as shortages of materials and workers have put nearly every rebuilding project behind schedule. While it is important to continue the steady work of recovery, unfortunately with the calendar soon changing to June 1, 2023, the official Atlantic Hurricane Season has arrived and it's time to begin preparations again.
Bishop Frank J. Dewane said that while the Diocese of Venice continues to recover from Ian, plans are in place to respond, if needed, to the next storm.
"We are all well aware of the catastrophic impacts of hurricanes as witnessed by the destruction caused during Hurricane Ian. Be assured everything is being done to mitigate from further damage in the future," Bishop Dewane said. "My prayers are for the people who continue to be displaced by Ian and who continue to face the long road to recovery. We should all be comforted that as terrible as Ian was, the Light of Christ was reflected in our midst as neighbors helped neighbors. As the new Atlantic Hurricane Season arrives, let us all ask God for protection and safety from these storms in this year and beyond." (Please see prayer on Page 4.)
Forecasters are expecting a "normal season," with up to 14 named storms. The forecast does not note if any of the storms will strike Florida, but it is only intended for planning purposes and to raise awareness. Of course, it is an important reminder that as the region learned in 2022, it only takes one storm to strike to have a very bad hurricane season.
Officials also stress that each tropical system is different, explaining that just because you survived Ian without any damage doesn't mean the next storm, whether it is a tropical storm or major hurricane, couldn't destroy everything around you. This is why heeding evacuation orders is so important. This was particularly true during Ian when some models forecast the storm to make a direct strike as far north as Tampa, meaning many let their guard down.
While keeping a wary eye on the weather forecast is important, being prepared before storms approach is just as vital. Preparedness means many things, but a key part is simply knowing where you live in relationship to evacuation zones in your city or county. Also, knowing how well constructed your home is can also impact your preparations and planning in the event an evacuation is ordered. With many still needing repairs leftover from Ian, emergency management officials say that this must be a factor in determining the making of evacuation plans. Also, as many learned, power could be out for days, or weeks, following a storm, and the decision must also be made if one wants to stay under those conditions.
How Best to Prepare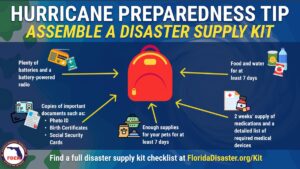 Emergency Management officials recommend each family have a Disaster Supply Kit, which should have a minimum of enough water and food to last three to seven days. That means one gallon of water per person/per day, plus enough non-perishable food that does not require electricity to prepare and consume safely. Those who care for infants, or the elderly, also need to think hard about what specialty items will be needed such as medications.
Other keys items for a Disaster Supply Kit include clothing (rain gear and sturdy shoes), blankets/pillows, first aid kit, all medicines and prescription drugs, toiletries, flashlights, battery-operated radio, cash, important documents in a waterproof container, and any items for your pets.
Do not forget the problems many had in getting basic supplies after Ian while large swaths of the Diocese remained without power for weeks. The Federal Emergency Management Agency stresses that in the aftermath of a major disaster, you should expect to be on your own for at least three days, if not longer, before substantial state and federal resources can be expected.
To help encourage the people of Florida to buy their emergency supplies now, this year, the Florida Legislature has approved two 14-day disaster preparedness sales tax holidays. The first began May 27 and will continue through June 9. The second is Aug. 26 through Sept. 8.
During these two periods, certain hurricane supplies will be tax-free. Along with the traditional items in a supply kit – like flashlights, radios, tarps and batteries – the tax holiday also includes a number of items related to the safe evacuation of household pets.
Also new this year, common household items that may be helpful with disaster cleanup are included, such as laundry detergent, toilet and paper towels, soap, sunscreen and various household cleaning products. Check your local retail store for a complete list.
If you have a Disaster Supply Kit that went unused in 2022, go through it to ensure all items are fresh and the batteries are still good.
Hurricane Center officials add that having an emergency preparedness plan will help lessen the stress when inevitably, the new tropical system forms and threatens the region. Key things like know your evacuation zone, knowing if your home can withstand forecasted winds, and having emergency supplies and documents ready ahead of time, are key actions to take ahead of the season.
Anyone who has medical, or transportation, issues must contact their city/county Emergency Management Office (the number is in the blue pages of the phone book or you can dial the non-emergency 511), to register and to potentially be relocated to a shelter if a storm threatens.
Another key action is to make sure your insurance is up-to-date, and photographs are taken of all valuables before the storm. Keep in mind that hurricane and flood insurance can take up to 30 days to go into effect, meaning buying insurance now will mean it could take until July, a month into the season, before the policy can be used.
Hurricane Preparedness in the Diocese of Venice
The Diocese of Venice has its own Hurricane Preparedness Plan, as do each of the entities such as Parishes, Catholic Schools, Catholic Charities and more. These plans are revised each year under the guidance of Bishop Dewane and a team from the Diocese, and reflect the valuable lessons learned from Ian, but also from Hurricanes Irma (2017) and Charley (2004).
With many locations still recovering from Ian, Diocesan Buildings Director Joe Rego said contingency plans are in place to protect properties in the best way possible as repair work continues in many locations.
Meanwhile, Catholic Charities, Diocese of Venice, Inc. remains at the heart of the Hurricane Ian recovery and is planning for a "what if we get impacted by another storm" scenario to ensure that disaster relief supplies are distributed quickly to those most in need. After Ian, a dozen different disaster response sites opened up throughout the Diocese helping tens of thousands of people get needed food, water and other supplies. Those will reopen as needed if a storm strikes.
Should disaster strike again, Catholic Charities will be at the forefront in preparing and responding. Catholic Charities will send a team to the epicenter of the disaster and then coordinate to set up relief centers — called PODs, which stands for Points-Of-Distribution – where the need is greatest. These centers – often located at Parishes or next to Catholic Charities offices – will be sites where water, clothing, food and other disaster relief assistance can be distributed.
The Diocese of Venice is well versed in responding to these storms. Each Parish, Catholic school and other entities have hurricane preparedness plans which assist in preparation before a storm and recovery afterwards.
For a complete list of how to plan and prepare for a disaster, please visit www.floridadisaster.org/planprepare.