Bob Reddy – Florida Catholic
Anniversaries are a good time to look back while also looking forward to the future.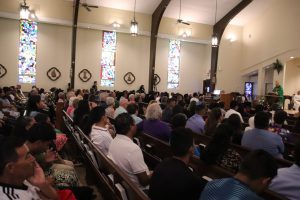 Sacred Heart Parish, near downtown Bradenton, has a history to fondly look back upon that dates to 1888. However, it wasn't until 81 years later, June 4, 1969 to be exact, that the actual Parish was permanently erected as an off-shoot of St. Joseph Parish.
To mark the beginning of 50th Anniversary festivities, Bishop Frank J. Dewane celebrated a Mass in honor of those who have called Sacred Heart Parish home for the past 50 years, for those who do so today, and for future generations to follow in their footsteps.
"Just as each priest leaves his mark during the time he serves here, each person who comes into the Church to worship and pray, leaves their own mark," Bishop Dewane said. "This community would be much poorer if it wasn't for you. Thank you. You have made Sacred Heart a unique Parish with a proud history and a bright future."
Many of the parishioners wore t-shirts with a 50th Anniversary logo of the parish which included an image of the Parish Church at its center and underscored by the dates 1969-2019.
"It's just a wonderful Parish," said Carlos Martinez. "Everyone is always so welcoming. And to have Bishop Dewane here to help us start our anniversary celebration with a Mass makes everything so special."
The Parish Church has several unique features including faceted glass windows that contain the Beatitudes which were installed in 1974. A stained-glass window, high above the front doors and narthex depicts the Sacred Heart of Jesus. It was in 2004 when a grotto Shrine to Our Lady of Guadalupe was dedicated. A major renovation of the Parish Church took place and Bishop Dewane rededicated the Church in late 2009.
The theme for the 50th Anniversary is: "Built by Faith and diverse in its expression, Sacred Heart Parish stands as a celebration of God's love of His people, reflected in our church building, surroundings and, most of all, its members."