Bob Reddy – Florida Catholic
6/18/19
Father Shawn Roser knows what it is like to be a seminarian for the Diocese of Venice. He was one a year ago. This fact makes Father Roser uniquely qualified to be the new Director of Vocations for the Diocese of Venice.
Announced by Bishop Frank J. Dewane, and effective May 17, Father Roser said he is anxious to work to support the existing seminarians who are discerning the priesthood now, while at the same time finding innovative ways to encourage others to follow the same path.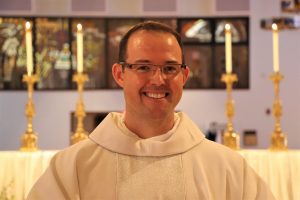 "This is a tremendous honor," Father Roser said. "The responsibility is awesome, and I will work diligently to help spread the word that promoting a vocation to the priesthood needs the support of all the faithful."
Bishop Dewane noted that Father Roser is the right person to fill this important role in the Diocese. "Father Shawn has the spiritual awareness and enthusiasm needed to be a successful Vocations Director."
As he settles into his new position, Father Roser noted that he will work to ensure the needs of the current Diocesan seminarians are being addressed. Since he was a seminarian, he already understands what it was like to go through the lengthy process of discerning a vocation to the priesthood.
"I understand the pressures, not just academically, but personally and spiritually," Father Roser explained. "I will do what I can to help them through the discernment process."
For those who might be thinking about discerning the priesthood, Father Roser will be there as a mentor as well. He went through a lengthy discernment process after he graduated from St. John Neumann Catholic High School in Naples.
He first went off to study aerospace engineering and applied meteorology, with the intention of pursuing a career as a U.S. Air Force officer and astronaut. It was then, during his involvement with Catholic campus ministry, that he experienced an awakening and renewing of his faith which started him on a journey to the priesthood. Father Roser was ordained on July 14, 2017.
Father said that long process, and the knowledge that everyone's call to the priesthood is different, will help him encourage others to consider their calling.
"Today it is hard for young people to feel connected," Father Roser said. "You have to help them strengthen their connection to the Lord; then the idea of a vocation to the priesthood or religious life becomes a more authentic option."
Father said he is blessed to be building upon the positive work done by Father Eric Scanlan, the Vocations Director from 2015-2019, who is now Administrator of Incarnation Parish in Sarasota and Chaplain at Cardinal Mooney Catholic High School.
He will be required to visit the different seminaries, attend vocations conferences and keep up with the academic and pastoral work of the seminarians. He will travel across the Diocese to promote vocations at various events still in the planning stages.
In addition to his duties as Vocations Director, Father is currently a Parochial Vicar at St. Joseph Parish in Bradenton and is a 4th Degree Knight of Columbus.
Diocese of Venice Seminarians are supported through the Diocese Catholic Faith Appeal, the Knights of Columbus and the generosity of the faithful.
Parishioners from around the Diocese are encouraged to help support the seminarians in their studies and choice of vocations. To support a seminarian, donations may be sent to the Diocese of Venice, Office of Vocations, 1000 Pinebrook Road, Venice, FL 34285.
For more information about the seminarians or Vocations, contact Father Shawn Roser at roser@dioceseofvenice.org or 941-486-4720, or visit www.venicevocations.com .
Prayer for Vocations
God our Father, we thank you for calling men and women to serve in your Son's Kingdom as priests, deacons, religious, and consecrated persons. Send your Holy Spirit to help us respond generously and courageously to your call. May our community of faith support vocations of sacrificial love in our youth. We ask this through our Lord Jesus Christ, who lives and reigns with you and the Holy Spirit, one God, for ever and ever.
Amen.