There are currently 13 men who are off and running in their studies as part of the Permanent Diaconate Formation Class of 2025.
Bishop Frank J. Dewane selected the aspirants after each was nominated and vetted through an extensive screening process. A key characteristic of those selected is that each has a strong family foundation and most importantly they have a deep understanding of the Faith.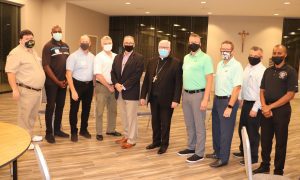 The 13 aspirants come from a variety of personal and professional backgrounds, representing all areas of the Diocese of Venice forming the largest aspirant class in Diocesan history, explained Diocesan Permanent Diaconate Director of Formation Deacon Bob Gaitens.
Bishop Dewane said of the men chosen: "Each has answered his own call to serve Holy Mother Church in a particular way, as a Permanent Deacon. The Class of 2025 is on a journey of Faith that will bring them and their family closer to the Lord."
The aspirants began their five-year formation process in September 2020, with classes taking place at St. Martha Catholic School in Sarasota. They have already completed their first semester of classes (Old Testament Part 1 and Theology of Orders).  Now they will start on Part II of the Old Testament and History of the Diaconate.
"The beauty of the Class of 2025 is that in their first semester they have coalesced into a very tight group and the relationships have already grown to where they are meeting outside of class to deepen their love of Christ and their Catholic Faith," Deacon Gaitens explained. "They meet virtually on Zoom between formation weekends as well as attending Diocese sponsored events as a group."
There are currently more than 65 active Permanent Deacons serving in Parishes throughout the Diocese of Venice, including seven who were ordained by Bishop Dewane in August 2021. The mission of the Permanent Deacons of the Diocese is to serve. They serve as ministers of the Word, where they proclaim the Gospel, preaching and teaching in the name of the Church; helping the needy; serving the needs of others; as ministers of the Sacrament of Baptism, leading the faithful in prayer; witnessing marriages; conducting wake and funeral services;.
Reflecting the comments from many of his fellow members of the Class of 2025, Steve Jendrysik, of Incarnation Parish in Sarasota, said he was honored and humbled to be selected. "It has already been a wonderful and enriching experience. I look forward to the opportunity to serve the Church in a greater capacity."
The following constitute the Permanent Diaconate Class of 2025:
Richard E. Dahn, St. Agnes Parish, Naples;
Craig J. Dutka, Holy Cross Parish, Palmetto;
Richard A. Hellenbrand, St. Andrew Parish, Cape Coral;
Thomas A. Januszka, St. Francis Cabrini Parish, Parrish;
Stephen L.Jendrysik, Incarnation Parish, Sarasota,
James N. Jenkins, St. William Parish, Naples;
Odonel Joseph, St. Peter the Apostle Parish, Naples;
Ramon R. Kanacheril, St. Vincent DePaul Parish, Fort Myers;
Mark A. Osterhaus, St. Agnes Parish, Naples;
Fernando L. Rivera-Lugo, St. Jude Parish, Sarasota;
Orlando A. Rubiano, St. Vincent DePaul Parish, Fort Myers;
Jeffrey P. Tenbarge, St. Peter the Apostle Parish, Naples;
John-William M. Trainer III, St. Peter the Apostle Parish, Naples.