A pilgrimage from St. Patrick Parish in Sarasota was able to leave Israel safely after a few harrowing days at the start of a disastrous conflict between Israel and terrorists.
The group of 62 left the U.S. for Israel on Oct. 2 with initial stops including Nazareth, Mount Tabor, the Sea of Galilee, Cana, Mount Carmel and the Western Wall. The group was in Palestine when they were notified that terrorist attacks had taken place and that they were to return to their hotel in Jerusalem. The group was far enough away from the main terror attacks that it was difficult for everyone to understand what was happening.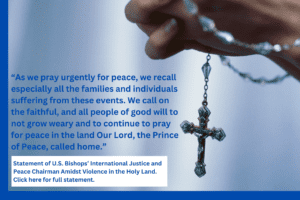 Everyone made it safely to the hotel and then arrangements to leave Israel were made. Some opted to cross the border into Jordan and fly out of Amman as soon as they could. Two groups (one of six, the other of 15) were able to get to Jordan, and after waiting for hours to clear customs, shortly afterwards the border closed.
Meanwhile, others arranged for flights from Tel-Aviv through various routes home. One of these groups took Ethiopian Airlines for a flight to Dublin, Ireland, Dallas and finally Tampa. By Oct. 12, all pilgrims from St. Patrick's were out of Israel and on the way home.
Father Russell Wright, Parochial Vicar at St. Patrick, who was the spiritual leader on the trip, got a flight through Dubai and was home by Oct. 9.
"It was very upsetting to be there and to learn about the poor people who were being harmed," Father Wright said. "In the hotel, we prayed for everyone who was suffering and for peace."
Several of the pilgrims said they had experienced such a beautiful trip and met so many wonderful people in Israel and Palestine.
Victoria Watkins who left the country via a van to Jordan, said the pilgrimage will be long-remembered and talked about, and in spite of the circumstances, "we experienced so many once-in-a-lifetime memories, never to be forgotten."
The St. Patrick pilgrimage was intended to continue through Oct. 11, with stops in Bethlehem, Mount of Olives, Jericho and Emmaus.
Another Diocesan pilgrimage was beginning when the war abruptly cancelled plans. The choir from St. Joseph Parish in Bradenton was planning to go to the Holy Land for a tour and performances, with some already enroute before the trip was cancelled and everyone returned home.
Please pray for peace in the Holy Land. As the U.S. Conference of Catholic Bishop's said in a statement:
"May all who love the Holy Land seek to bring about among all the parties engaged in the fighting a cessation of violence, respect for civilian populations and the release of hostages. As we pray urgently for peace, we recall especially all the families and individuals suffering from these events.  We call on the faithful, and all people of good will to not grow weary and to continue to pray for peace in the land Our Lord, the Prince of Peace, called home."