There were many times throughout the life of Craig J. Dutka when he could have turned away from his Faith, breaking his strong connection with Christ. But that is not the Catholic man Dutka has become. Instead, he is on the threshold of achieving the dream of being Ordained to the Permanent Diaconate for the Diocese of Venice.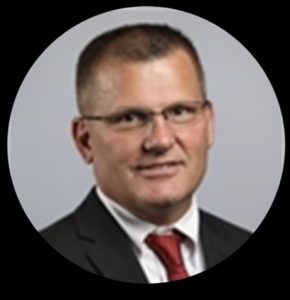 The Ordination to the Permanent Diaconate is at 10:30 a.m., Saturday, June 18, 2022, at Holy Cross Parish, 506 26th St. W., Palmetto.
Dutka came to the Diocese of Venice from the Diocese of Metuchen in New Jersey. It is where he was born and raised and started his own family. After hearing a call to become a Permanent Deacon, Dutka entered the Diaconate training program in New Jersey, taking requisite advanced classes at Seton Hall University and progressing well even though he had little background in sacred theology.
However, that dream of service to the Church as a Permanent Deacon was put on hold when Dutka lost the business he founded and ran for 17 years. With a financial crisis and a need to ensure the future of his family, he dropped out of the diaconate formation program and eventually moved to Florida to find work in his field as an electrician and project manager.
"Although fear abounded," Dutka explained, "God always tells us to: 'Trust Me in all things.' My trust in God is absolute. I felt very alone as my class moved forward toward ordination. However, God has been so good to me, and the trajectory of my life could have gone in a negative direction; but my Faith and my family helped me get through the junkyard that was that point in my life."
So, when his New Jersey classmates, whom he identifies as brothers, were each ordained as Permanent Deacons in 2019, Dutka was there to pray and cheer for them.
At the same time, his life in Florida was settling down and he reached out to the Diocese of Venice Permanent Diaconate Formation program leaders seeking to learn about his options. Dutka said that although he had competed nearly all of his formation in New Jersey, he was practical in the reality that he might have to go through an entire seven-year process a second time.
"Deacon Bill Ladroga (then Permanent Diaconate Formation Director) was hesitant because of my age and the fact that no one in the Diocese of Venice knew who I was," Dutka said. "A letter from my Bishop (Most Rev. James F. Checchio) to Bishop Dewane opened the door to a personal interview."
Bishop Dewane was impressed with Dutka's determination and understood his unique circumstances. Ultimately, Bishop Dewane offered Dutka entrance into the Diocese of Venice formation program with the stipulation that he make the commitment with his whole heart and soul, and was willing to complete at least two additional years of study, at which point his petition for ordination would be reviewed.
"I immediately agreed because at that point I was willing to do 7 more years of formation," Dutka said. "I joined the Venice formation class of 2025 and was worried that I wouldn't have anything in common with my new brothers, but it was the opposite… I gained a great deal of love and support from them, and they learned from me. The Diaconate is a brotherhood of service that creates a strong bond."
Dutka credits Bishop Dewane, Deacon Ladroga, Deacon Bob Gaitens (current Permanent Diaconate Formation Director), as well as Father Kristian Villafaña, Temporary Administrator of Holy Cross Parish, with helping him make it through. They each offered guidance and had faith and confidence in him to succeed, he said.
Although he has overcome many obstacles in his life, from being born in a taxi during a snowstorm, losing both parents in a short period of time when he was a teen, to losing his business and more, Dutka said he always counts himself as blessed.
"I have had a calling within the Church. My journey might serve to inspire others to follow the guidance of the Holy Spirit. When the Holy Spirit tells you 'This is or isn't what you are going to do with your life,' you have to listen and have Faith."
Dutka grew up and worked in Monroe, New Jersey, before coming to Florida. He currently works as a project manager at Willis Smith Construction and is married to his wife of 22 years, Eileen. He has three boys, Shane, Brett and David.
The Ordination to the Permanent Diaconate of Craig J. Dutka is open to the public and all are welcome and encouraged to attend. The ordination is 10:30 a.m., Saturday, June 18, 2022, at Holy Cross Parish, 506 26th St. W., Palmetto.