The Diocese of Venice relies on dedicated men who have committed their lives to serving God. Transitional Deacons Alejandro Giraldo Roldan and Daniel Scanlan have answered that call and will be ordained to the priesthood.
Deacons Roldan and Scanlan have completed their priestly formation and have been called to ordination by Bishop Frank J. Dewane, who will be the ordaining prelate. The ordination will be at 11 a.m., July 15, 2023, at Epiphany Cathedral, 350 Tampa Ave. W., Venice.
In addition to Bishop Dewane, the Mass will include a number of priests, deacons, religious, family and friends from across the Diocese. The ordination is open to the public and all are encouraged to attend, A reception following the ordination will be held in the Epiphany Parish Center.
"This is one of the most beautiful and rarely seen Sacraments in the Church," Bishop Dewane explained. "The Diocese of Venice is blessed that these men have heard the call of the Lord and this comes with great responsibility and accountability. At ordination these men are joined to the Bishops in the priestly office and are called to serve God's people. It is important that the faithful support each ordination as the priest being ordained is a future link to the continuation of the Sacraments."
During ordination to the priesthood the ordinandi freely present themselves to serve God, the Church and the Bishop of the Diocese of Venice and his successors. They will also make a renewed commitment to celibacy and promise obedience. The reward for that choice is to have their lives filled with the message of God.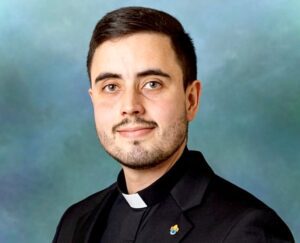 Deacon Roldan, 29, a native of Columbia, approaches the ordination with great inner peace, knowing that he is blessed by gifts granted to him by God after nearly 11 years of discerning his vocation. "It is a gift I receive from God not because of my abilities but because of His great mercy and love towards me."
A pivotal moment in the life of Deacon Alejandro was receiving his First Holy Communion, what he called one of the happiest days of his life. "It was at that moment and going forward that I experienced the love of God in a special way. That awakened my desire to become a priest."
At the age of 17, Deacon Alejandro discerned a vocation with a religious order for a time, but the Lord allowed him to make a detour along the way. He ultimately continued at university studying theology and earning a degree as a lay person. Unfulfilled in life, God continued to call him toward a priestly vocation, and this led him to the join the Diocese of Venice as a seminarian in 2019. He first studied at St. John Vianney College Seminary in Miami before going on to St. Vincent de Paul Regional Seminary in Boynton Beach.
As a seminarian, Deacon Roldan served pastoral assignments at St. Mary, Star of the Sea Parish on Longboat Key and a pastoral year at St. Thomas More Parish in Sarasota where he will celebrate his first Mass as a priest.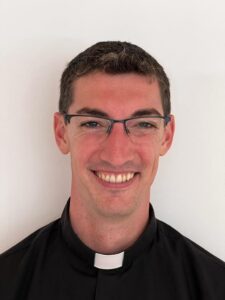 Meanwhile, Deacon Scanlan, 28, was born and raised in Fort Myers in a large family, the seventh of 11 children, before they moved to Ave Maria. When he was 13, he had his first thought about becoming a priest when he heard his oldest sibling tell the family about his own discernment to the priesthood.
"I think I was fascinated because I never considered how one became a priest. I didn't even know what a seminary was… this was a big moment in my life because the thought that my own brother might become a priest made this vocation become real and personal to me."
It wasn't until later in high school when the idea of a discernment surfaced again. It occurred during a Steubenville youth conference in Orlando, when at the end, all men and women who were discerning were asked to come up to the stage.
"My heart began pounding when I heard those words. I never really spoke about the priesthood to anyone and when they invited everyone up: I had to make a choice… This was the first time I had to acknowledge to myself: 'yeah… I am discerning the priesthood.'"
That vocation journey will reach a culmination in two weeks, when his eldest brother, Father Eric Scanlan, Pastor of Incarnation Parish in Sarasota, will be vesting him during the ordination.
Deacon Daniel first studied at Ave Maria University before deciding to follow his heart to become a Diocesan seminarian at St. John Vianney College Seminary in Miami. He later studied in Rome at the Pontifical North American College and received a degree in sacred theology from the Pontifical Gregorian University. Most recently, he initiated his studies in moral theology at the Pontifical University of Santa Croce. Following his ordination, he will transfer to the John Paul II Institute in Washington, D.C., to study for his licentiate of Sacred Theology of Marriage and Family.
Since joining the Diocese as a seminarian, Deacon Scanlan has served pastoral assignments at the following Parishes: St. Vincent de Paul in Fort Myers; Ss. Peter and Paul the Apostles in Bradenton; St. Francis Xavier in Fort Myers; St. Joseph in Bradenton; and St. Katharine Drexel in Cape Coral.
While Deacons Roldan and Scanlan are being ordained on July 15, there are several men who are at various stages in their priestly formation, either in college or at a seminary where they continue their studies toward the ordained priesthood. The seminarians are currently engaged in various summer pastoral assignments.
Seminarians are supported by the Diocese of Venice through the Catholic Faith Appeal, the Knights of Columbus, the Council of Catholic Women and the generosity of individual parishes and parishioners. Parishioners from around the Diocese are encouraged to help support the seminarians in their studies and choice of vocation.
To contribute to the education of the seminarians, send a check to the Diocese of Venice, Office of Vocations, 1000 Pinebrook Road, Venice, FL 34285 or go to www.dioceseofvenice.org/ways-to-give. For more information about the seminarians or Vocations, contact Father Roser at 941-484-9543.