EDITOR'S NOTE – Story continues below:
Priestly Ordination to be Livestreamed
Bishop Frank J. Dewane invites the faithful to watch, via a livestream, the Ordination to the Priesthood of Transitional Deacons Christian Chami, David Portorreal, and Michael Young at 11 a.m., Saturday, July 16, from Epiphany Cathedral in Venice. The Ordination, presided over by Bishop Frank J. Dewane, will be livestreamed via the Cathedral at www.facebook.com/epiphanycathedral. Links will laso be available via the Diocesan website, www.dioceseofvenice.org, or the Cathedral website, www.epiphanycathedral.org. The livestream will begin a few minutes before 11 a.m. and be accessible later for those unable to watch live. Please note that you do not need to have a Facebook account to watch the livestream.
Profile of the three ordinandi
The Diocese of Venice relies on dedicated men who have committed their lives to serving God. Three such men will be ordained to the priesthood on July 16, 2022, at Epiphany Cathedral in Venice.
Transitional Deacons Christian Chami, David Portorreal, and Michael Young have completed their priestly formation and have been called to ordination by Bishop Frank J. Dewane, who will be the ordaining prelate. The ordination will be at 11 a.m., at the Cathedral, 350 Tampa Ave. W., Venice.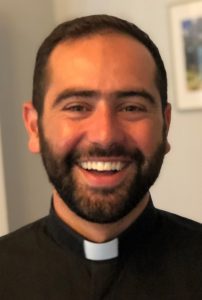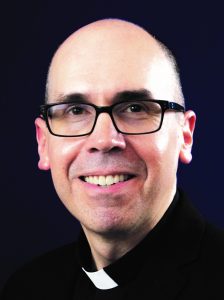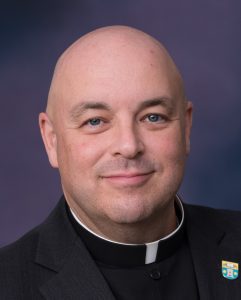 In addition to Bishop Dewane, the Mass will include a number of priests, deacons, religious, family and friends from across the Diocese. All are invited to attend the Mass and a reception following the ordination in the Epiphany Parish Center.
"This is one of the most beautiful and rarely seen Sacraments in the Church," Bishop Dewane explained. "The Diocese of Venice is blessed that these men have responded to the Call to Holiness, which comes with great responsibility and accountability. At ordination these men are joined to the Bishops in the priestly office and are called to serve God's people."
Venice Diocesan Director of Vocations, Father Shawn Roser, added that the ordination is the final step to priesthood, but it is not the conclusion of their priestly formation. "This is just the beginning."
Deacon Chami, born in Montreal, Canada, raised in Naples since the age of 4, is a graduate of Florida State University where he first seriously heard the call for a vocation to the priesthood. His family is originally from Lebanon.
An accomplished swimmer in high school, Deacon Chami found through adversity that there was more to life than "looking at the bottom of the pool. The Lord always works in mysterious patterns… I would reach new heights as a swimmer and get hurt. It was then I realized that I needed to put God at the center of my life. So, I started asking; let me know Jesus, in a way I had never known before."
While at Florida State, Deacon Chami credits the Brotherhood of Hope, a religious order which runs the Catholic Student Union in Tallahassee, with teaching him how to pray with Scripture, pray silently, and how to properly discern.
"I just had this moment where I realized that saying yes to becoming a priest or religious brother didn't cause a sadness in me," Deacon Chami added. "Rather it was joy. Because ultimately I'd be living and working with the Lord – and I wasn't losing anything, rather I was gaining something that I hadn't seen before."
Since joining the Diocese as a seminarian, Deacon Chami graduated from St. John Vianney College Seminary in Miami and then studied at the Pontifical North American College in Rome. Within the Diocese, he has served pastoral assignments at St. Leo the Great Parish in Bonita Springs, Incarnation Parish in Sarasota, Sts. Peter and Paul the Apostles Parish in Bradenton and St. Francis Xavier Parish in Fort Myers.
Deacon Portorreal grew up in Northeast Ohio attending Jesuit-run Catholic schools and then graduated from the College of the Holy Cross in Worcester, Massachusetts, before entering film school at Florida State University. He moved to Los Angeles to break into the film industry trying to sell screenplays, get acting jobs and even tried his hand as writer/director. But the seeds of a priestly vocation were planted in grade school and as the years passed there was a growing restlessness that the Ministerial Priesthood was what God wanted in his life.
"There was always this restlessness," Deacon Portorreal said about his calling, admitting that he focused on other things first but wasn't finding peace. "I was told by a formation director in Los Angeles that I was never going to truly know the answer until I formally discern. I decided to leave my life behind and move forward with those seeds planted way back when. I like to say that God is the great course corrector; so all of the different twists and turns in my life the Lord has led me to this moment where I am at the cusp of being a priest and I couldn't be more grateful."
Deacon Portorreal began his discernment with the Archdiocese of Los Angeles at St. John Seminary in Camarilla, California. But his parents are retired in Naples, so he eventually transferred to become a seminarian within the Diocese of Venice. As a seminarian, Deacon Portorreal has had pastoral assignments at St. William Parish in Naples and St. Leo the Great Parish in Bonita Springs.
Deacon Young was born in Atlanta, Georgia and grew up in Mississippi before settling in North Carolina. He too heard the call to the priesthood from a young age, but also pushed it to the back of his mind when he joined the U.S. Navy and served for four years. It was there that he appreciated his faith more profoundly as access to a priest was rare while onboard a ship at sea.
When Deacon Young left the Navy, he became a law enforcement officer and special/enforcement agent. He later worked as a reentry program case manager for men and women transitioning from the Federal Bureau of Prisons back into society.
He described his calling to the priesthood as a series of moments when he received reinforcement to move forward, first with a career and then to a life in service to the Lord. "Some people have a calling early and some later in life. When you are ready, you know it. I always had good spiritual advisors who planted the seeds of my discernment, beginning with my parents. The advice was always to stay strong in the Faith, and here I am."
Deacon Young earned a degree from John Wesley College in North Carolina and is a former member of a religious community who then transitioned to the Diocese of Venice. He recently graduated from Pope St. John XXIII National Seminary in Weston, Massachusetts, which caters to second-career vocations. Within the Diocese of Venice, he served pastoral summer assignments at Incarnation Parish in Sarasota and Our Lady of Lourdes Parish in Venice.
While Transitional Deacons Chami, Portorreal and Young are being ordained on July 16, there are another 13 men in the Diocese who are at various stages in their priestly formation, either in college or at a seminary where they have begun studies toward the ordained priesthood. The seminarians are currently engaged in various summer pastoral assignments.
Seminarians are supported by the Diocese of Venice through the Catholic Faith Appeal, the Knights of Columbus, the Council of Catholic Women and the generosity of individual parishes and parishioners. Parishioners from around the Diocese are encouraged to help support the seminarians in their studies and choice of vocation.
To contribute to the education of the seminarians, send a check to the Diocese of Venice, Office of Vocations, 1000 Pinebrook Road, Venice, FL 34285 or go to www.dioceseofvenice.org/ways-to-give. For more information about the seminarians or Vocations, contact Father Roser at 941-484-9543.