By Jeanne Berdeaux, Special to the Florida Catholic
Every year since 2007, a special collection has been taken in parishes throughout the Diocese of Venice to enhance the work of the Respect Life Office. At the direction of Bishop Frank J. Dewane, the main focus is on youth – helping young people develop a greater respect for all human life, regardless of age or condition. The 2021 collection for the Diocese is the weekend of Oct. 2 and 3, during National Respect Life Month.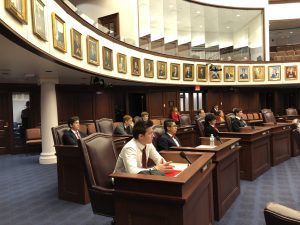 The global Pandemic has had a devastating effect on our young people in ways many people don't even realize. Many students were left alone in their homes if their parents had to work. They had on-line classes, but the temptation was there to explore the darker side of the Internet. Planned Parenthood unleashed an online outreach to snare young men and women into their web which resulted in over 744,000 anonymous conversations with their so-called sexual health experts as well as over 185,000 one-on-one conversations via chat rooms and texts.
To counteract the negative messages bombarding our youth, Collier Community Abstinence Program (CCAP), now a nationally recognized non-profit organization, pivoted to develop all new authentic abstinence programs which were streamed online last year for home and school use free of charge. They have also developed the first-of-its-kind app-based program called "My Mentor" to supply mental and emotional health support to students which is ready to debut in 2022. This innovative approach is much needed in Southwest Florida which has experienced a 500% increase in youth (13-18) suicide attempts from 2018 to 2020. It can literally save lives! This app will be given to every Parish and school in the Diocese of Venice in February 2022. The programs have already made a difference, reducing the number of pregnancies in unwed teenagers, improving graduation rates and lowering school absenteeism. The generous donors of the annual Respect Life Collection allow the Diocese to support CCAP's efforts as they strive to instill the pro-life message in our youth. Further information can be obtained by contacting CCAP Executive Director Theresa Barbale at 239-776-5489 or theresaccap@gmail.com.
The collection also allows us to offer scholarships to the Congreso Pro Vida, a national pro-life conference to inspire Hispanic communities to learn more about the life issues.  There have been five Congresos in the Southwestern United States and California, but this is the first one to be held in Florida, hosted by the Archdiocese of Miami on Oct. 29-31, 2021. With half of our parishes providing specific outreaches to Hispanic and Latino communities, it is important that their pro-life heritage be reinforced, particularly since Planned Parenthood has implemented its own outreach to Spanish-speaking communities. Information is available at www.congresoprovida.org and Diocese of Venice scholarship information can be obtained from Sylvia Jimenez at 941-412-5860 or c-Jimenez@dioceseofvenice.org. Online opportunities are also available for those who cannot attend in person.
Due to the Pandemic, Florida had a virtual Catholic Days at the Capitol lobbying effort in February of this year, but plans are underway to bring adults and students to Tallahassee in person for the Feb. 1-3, 2022 event. The collection allows us to sponsor Catholic high school students to experience their government in action – a great civics lesson! They also learn how they can bring Catholic messages to state legislators on key bills of interest to the Church, particularly on abortion, the death penalty and end of life issues. Seeing the Capitol, the Senate and House chambers, the Governor's office and individual legislators' offices can make a lasting impression on young minds. This experience will give them a new perspective as they become voters in the near future and inspire them to continue to engage in legislative advocacy as they mature into Catholic adults. Anyone interested in joining us for this 3-day bus trip is invited to contact me at Berdeaux@dioceseofvenice.org or 941-374-1068.
So much more outreach can be done thanks to the generous donations to the annual Respect Life Collection. God bless our cheerful givers!