Staff Report – Florida Catholic
11/15/2018
A simple exercise for a Parish youth group turned into an outpouring of heartfelt emotion about the Universal Church, their Faith and Pope Francis.
Rita J. Sheridan, Director of Youth Ministries at Sacred Heart Parish in Punta Gorda, organized her 6th-8th graders to compose messages – or Tweets – that would be sent to Pope Francis through his Twitter social media account.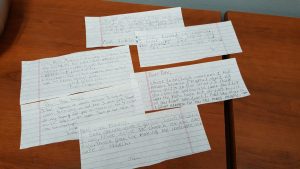 Sheridan heard about other youth groups doing this exercise and believed it would be a good idea. The results were amazing.
"After I read each of them, I was so moved that I set up the Twitter account and sent them off to the Pope," Sheridan said. "They really couldn't believe I would actually do this!"
Sheridan was pleased with the thought and effort the students made during this project.
"It was a great exercise and the kids truly spoke from their hearts," she said.
The following are just some of the Tweets created by the youth from Sacred Heart Parish in Punta Gorda:
"Dear Pope Francis – when I go to Church I feel safe against all evil on Earth. I honor you for religious freedom. I get connected to the Church when I pray and I am with my family." – Nicholas
"Dear Pope Francis – I feel special at Church because I sing at Mass. It's only me and three other girls. Almost all my family that goes to church at the 4 o'clock Mass helps in the Mass. Thank you for trying to stop the shootings. Love." – Tristen
"Dear Pope Francis – My name is Aaron and I'd like to tell you that when I go to Church I feel connected to the Church. I appreciate your work. I'm connected to the Church because I love to learn about God. God bless you, Pope Francis." – Aaron
"Dear Pope Francis – When my mother, brother and I walk into Church we feel welcomed by God. I truly follow what you stand for which is love, caring and having a beloved heart. I follow yours and God's Word for these top three special things. I plan on serving in the U.S. Navy to protect these top three things including religious freedom so we can continue to follow God and follow his word in the future. Thank you for being the true head of our Christian Catholic religion. I truly follow you wholeheartedly… dearly loved and truly follower." – no name provided
"Dear Pope Francis – As I walk into Church I feel welcomed. Along with many other emotions including the breaking of my religious solitude and the acceptance into God's arms. I honor you because of your efforts and success in helping people into Christianity or accepting them for who they are no matter the religion or Faith of said person. I feel as if you connect me to the Church by showing me there is nothing to be afraid of as you and God accept me into your arms even if others don't accept me for who I am. I like your approach on how you want to save the environment and how you unite people together to make a change. Thank you." 8th grader – no name provided
To date, the youth have not received any responses from Pope Francis, but Sheridan explained that this is understandable as the Holy Father (or his staff) likely see countless messages each day.