In a special treat for the Diocese of Venice, Relevant Radio's "Family Rosary Across America" was broadcast live from St. Isabel Parish on Sanibel on March 7, 2022.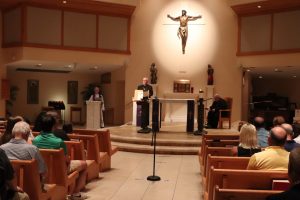 Host, Father Francis "Rocky" Hoffman, had two special guests, Bishop Frank J. Dewane and Archbishop Bernard Hebda of Minneapolis – St. Paul, In addition, a group of more than 60 parishioners were present for the live broadcast which was recorded in the Parish church.
Father Rocky opened the broadcast at 7:45 p.m., interrupting regularly scheduled programming, with an interview of Bishop Dewane and Archbishop Hebda during which they discussed their time together in seminary at the North American College in Rome.
Bishop Dewane asked about about his history and life before entering seminary when he worked in the then-Soviet Union for NBC. The Bishop offered his unique perspective on the current war between Ukraine and Russia, saying that the situation deeply saddens him, knowing the Russian and Ukrainian people who don't want war.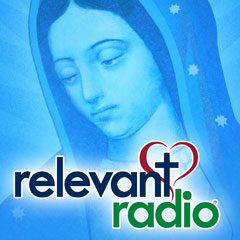 "There is a strong spirituality in both of those countries, and it is particularly painful to see what has happened and developed and wonder where they have put the place for Christ in their lives," Bishop Dewane stated. "In the northern part of the Diocese there are large numbers of Ukrainians, and they have a strong spirituality."
Father Rocky inquired about the reported large number of participants in the daily Mass and wondered if there was something in the water.
"It's the good people who come here, and those who are here; that's really what it is, and also the Grace of God," Bishop Dewane said. "It is true the daily Mass is shoulder to shoulder, crowded. Some Parishes do not have enough room in their Chapel during (the winter) season so the Mass goes into the main Church. I'd say this is a good problem to have."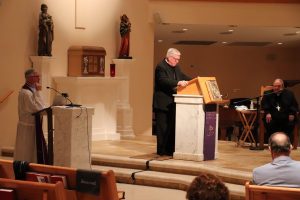 When asked for his special prayer intentions during the Family Rosary Across America, Bishop Dewane said: "I think we all need to pray for peace in our world, particularly with Ukraine in mind. To ask Our Lady's intercession for people who have deep roots in spirituality, in the recognition in Our Lady, that they can come together and that the Holy Spirit will inspire the respective leaders to worry not so much about their egos but to worry about their people who are in such desperate need. Also, here in the Diocese of Venice, for our young people… that the Lord continue to inspire them in a desire for faith and a living of their faith throughout their lives."
Archbishop Hebda led praying of the rosary who Bishop Dewane lead the responses. Father Rocky described the Joyful Mysteries (used each Monday on the program) while also sharing prayer intentions from callers across the country. These callers included young children who were praying for family members while others called in to request prayer intentions for the ill or those who have died. The faithful from St. Isabel were also afforded the opportunity to share their own prayer intentions.
Relevant Radio can be heard on 106.7 FM and 1410 AM in Fort Myers and 93.3 FM (NEW) and 1660 AM in Naples and is also available online at https://relevantradio.com/.
Bishop Dewane has a monthly radio show "Witnessing Faith with Bishop Dewane," which can be heard at 8:30 a.m. on the last Friday of the month. The next broadcast is March 25. Outside of the listening area, access to the program is available at https://dioceseofvenice.org/our-bishop/relevant-radio-podcasts.
A reception in the Parish Hall preceded the live broadcast hosted by the staff of St. Isabel Parish including Father Ed Martin, Pastor.