Bob Reddy – Florida Catholic
Faithful gathered across the Diocese of Venice and around the United States on the weekend of Oct. 13 for rosary rallies to join in prayer for our country and peace in the world.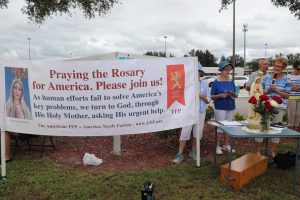 Some 15,000 "America Needs Fatima" Public Square Rosary Rallies took place nationwide, with at least six throughout the Diocese, all to pray for America and the conversion of sinners as Our Lady of Fatima requested. Oct. 13 marked the 102nd Anniversary of the last apparition of Our Lady of Fatima and the Miracle of the Sun in Portugal.
A group of prayer warriors gathered Oct. 12 at College Parkway and Winkler Road, in front of an abortion facility, adding significance to their prayer vigil. A statue of Our Lady of Fatima was on display while the rosary was recited, prayers were said to honor Our Lady of Fatima and for the nation.
Grace McPherson participated in the rally because she believes in the "America Needs Fatima" message, that the faithful of the country need to rededicate themselves to Mary.
"Our Lady of Fatima is about love and understanding," McPherson said. "We all need to follow the Blessed Virgin's example to have a clearer direction and greater purpose for this country."
Other communities in the Diocese which held vigils included St. Agnes Parish in Naples, San Pedro Parish North Port, and Our Lady of the Angels Parish in Lakewood Ranch.
The Our Lady of Fatima story begins with three children bringing their sheep to a pasture to graze when a bright light shined on them. In that light was a woman who said, "I am a lady from heaven." The figure, deemed the Immaculate Heart of Mary, called on the children to recite the rosary every day and to pray for the world.
Every year, "America Needs Fatima" organizes thousands of Public Square Rosary Rallies across the nation to pray for America and the conversion of sinners, as Our Lady of Fatima requested. The goal is to win the heart and soul of America for Mary by spreading Our Lady's Fatima message and promoting devotion to Her Immaculate Heart.