Diocese of Venice Seminarian Daniel Scanlan took a major step toward his dream of becoming a priest when he was ordained to the Transitional Diaconate during a Mass Sept. 29, 2022, at the Altar of the Chair of St. Peter, in the Papal Basilica of St. Peter in the Vatican.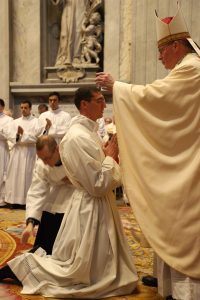 Celebrated by Bishop Austin A. Vetter of Helena, Montana, the ordination of 23 men from the Pontifical North American College is one of the final steps toward priesthood.
Present for the ordination were Deacon Scanlan's large family (he is the seventh of 11 children), including his eldest brother, Father Eric Scanlan, Pastor of Incarnation Parish in Sarasota, who was a concelebrant and vested his brother. In addition were several other relatives as well as Father Shawn Roser, Diocesan Director of Vocations; Father Christian Chami (ordained in July 2022 and is completing his studies in Rome); and Diocesan Seminarian Joseph Doherty who is also studying at the Pontifical North American College.
Deacon Scanlan, 27, was born and raised in Fort Myers before his family moved to Ave Maria. He first studied at Ave Maria University then decided to follow his heart to become a Diocesan seminarian at St. John Vianney College Seminary in Miami, and received a Baccalaureate in Sacred Theology from the Pontifical Gregorian University. He is currently studying Moral Theology at the Pontifical University of Santa Croce but will transfer next year to the John Paul II Institute in Washington, D.C., to study for his licentiate in Marriage and Family.
The idea of becoming a priest started at 13, when he heard his oldest sibling, Eric, tell his large family about his own discernment to the priesthood. Though intrigued, Deacon Daniel put the thought on the backburner while he focused on other things.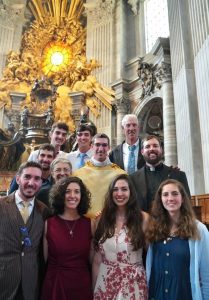 "I think I was fascinated because I never considered how one became a priest. I didn't even know what a seminary was… this was a big moment in my life because the thought that my own brother might become a priest made this vocation become real and personal to me."
It wasn't until later in high school when the idea of a discernment surfaced again. It occurred during a Steubenville youth conference in Orlando, when at the end, all men and women who were discerning were asked to come up to the stage.
"My heart began pounding when I heard those words. I never really spoke about the priesthood to anyone and when they invited everyone up: I had to make a choice… This was the first time I had to acknowledge to myself: 'yeah… I am discerning priesthood.'"
During the ordination, the new Deacons promised to live a life of prayer, celibacy, and obedience to their Diocesan Bishops. The new Deacons will have an additional year of theological studies and spiritual formation before being ordained to the priesthood in their home Dioceses. As part of the ordination Rite, the Bishop placed the Book of Gospels in the hands of each candidate being ordained and said: "Receive the Gospels of Christ, whose herald you have become. Believe what you read, teach what you believe, and practice what you teach."
At the ordination Mass, which was on the Feast of the Archangels, Bishop Vetter thanked the 23 men for saying "yes" to God and to the Church and encouraged them to imitate the archangels, "with the help of St. Michael, fighting against the Evil One; with the help of St. Gabriel, being a herald of the Incarnation; and with the help of St. Raphael, bringing healing to the people of God."
Bishop Vetter also told them to "bump into Jesus." Do not look past anyone, no matter how insignificant they appear to the world, he said. "Serve them and you will find that you are bumping into Jesus all over the place. Bump into Jesus in his people."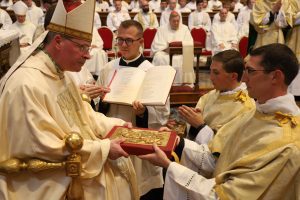 Deacon Scanlan said "when we follow God's plan for our lives, we know that is what will be most fulfilling, most rewarding, and most satisfying because it is the mission He created us for while in our mother's womb. People often come up to me and thank me for my 'yes' to the priesthood. I always appreciate their sentiment but at the same time, it is easy for me to say 'yes' because I want to serve and give myself to the Church."
Since joining the Diocese as a seminarian, Deacon Scanlan has served pastoral assignments at the following Parishes: St. Vincent de Paul in Fort Myers; Ss. Peter and Paul the Apostles in Bradenton; St. Francis Xavier in Fort Myers; St. Joseph in Bradenton; and St. Katharine Drexel in Cape Coral.
Please pray for Deacon Scanlan and each of the Diocese of Venice Seminarians who continue in discerning their vocation and formation for the priesthood.
Catholic News Service contributed information to the report.