Diocese of Venice Seminarian Carlos Encinas feels blessed and at peace following his Ordination to the Transitional Diaconate on April 14 at St. Joan of Arc Parish Church, Boca Raton.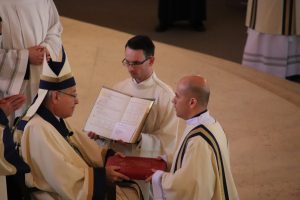 Transitional Deacon Encinas said a few days later that "the peace and happiness that I experienced that day are still with me. Praise God! The role of a Deacon is to assist the Priest ministering some of the sacraments to the people of God. I'm really excited that I will be able to do that."
Celebrated by Bishop Felipe de Jesús Estévez of the Diocese of St. Augustine, the ordination of 13 men at St. Vincent de Paul Regional Seminary in Boynton Beach, is one of the final steps toward priesthood.
While his family was unable to attend from Argentina, they were able to watch a live feed on Facebook. Present in support of Encinas were a number of friends as well as Fathers Tomasz Zalewski and Lawton Lang of St. Joseph Parish in Bradenton, where Encinas served a pastoral year. In a show of support, Transitional Deacon Encinas served as the deacon at the April 15 Masses at St. Joseph Parish.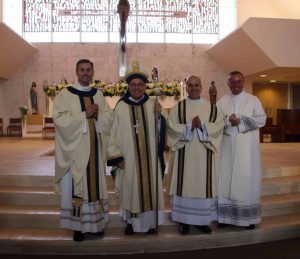 Deacon Encinas, 39, is from Corrientes, Argentina, and was working toward a medical degree when he discerned his vocation to the priesthood.
During the ordination, the new deacons promised to live a life of prayer, celibacy and obedience to their Diocesan Bishop. Deacon Encinas will have an additional year of theological studies and spiritual formation before petitioning for Ordination to the Priesthood in 2019. As part of the ordination rite, the Bishop placed the Book of Gospels in the hands of each candidate being ordained and said: "Receive the Gospels of Christ, whose herald you have become. Believe what you read, teach what you believe, and practice what you teach."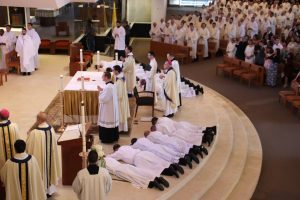 In his homily, Bishop Estévez noted the wisdom of the Church that those seeking ordination to the priesthood first become deacons. "This is so that each one of them understands that as Jesus taught the Apostles by the washing of the feet at the Last Supper, that they ought to do the same as the Lord. That is to minister in the manner as servants."
Bishop Estévez added that deacons are not simply servants, but they are called to be an encounter with the Living Word for others as they have been blessed be a personal intimate relationship with the Lord.