The Diocese of Venice continues its recovery from Hurricane Ian which devastated the region on Sept. 28, 2022, with winds up to 155 mph and storm surge and flooding rains.
The recovery has been aided thanks to the kindness of many who saw the plight of the Parishes in the Diocese of Venice and contributed to the United States Conference of Catholic Bishops (USCCB) 2022 Special Collection for the Bishops' Emergency Disaster Fund. The Diocese of Venice has been awarded $1.383 million from the USCCB collection.
Since the time of the founding of the Diocese in 1984, the faithful have generously responded to help others through special collections, and now this generosity is coming back to our own Diocese, as it did following Hurricane Charley in 2004 and Hurricane Irma in 2017.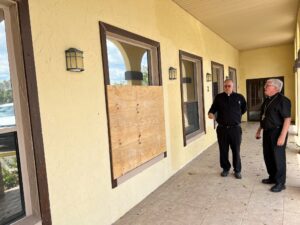 Bishop Frank J. Dewane said he was personally grateful, on behalf of the faithful of the Diocese of Venice, "to all of the people who contributed to the Bishops' Emergency Disaster Fund Special Collection in the wake of Hurricane Ian. The devastation to communities in the area, and even to the infrastructure of the Diocese, was catastrophic. Even today, as families continue the process of rebuilding, so do our Diocesan Parishes. I also wish to thank my fellow Bishops who saw the need in the Diocese of Venice and were generous to those Parishes who were most burdened financially when disaster struck."
Ian took a heavy toll on the Diocese of Venice, with more than 685 reports of damage to various structures. Significant damage was found in more than 400 structures, including at 30 Parishes and 10 Catholic schools, as well as at many other Diocesan entities. The resulting cost to rebuild exceeded what many Parishes could begin to manage.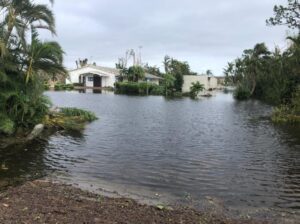 Bishop Dewane, on behalf of the Diocese of Venice, made a formal request for grant money raised through the Bishops' Emergency Disaster Fund. This application included a complete description of damages, with accompanying photos, as well as the entities financial situations.
At a USCCB meeting, the Subcommittee on Catholic Home Missions awarded a $1.383 million grant from the Bishops' Emergency Disaster Fund to the Diocese of Venice. This grant money was designated to assist 13 Parishes in the Diocese that serve impoverished communities and had sustained severe damage from Hurricane Ian. The funds received covered a significant portion of the insurance deductibles – in some cases hundreds of thousands of dollars – and costs that Parishes owed for new roofs, mold mitigation, and other repairs that otherwise didn't have resources.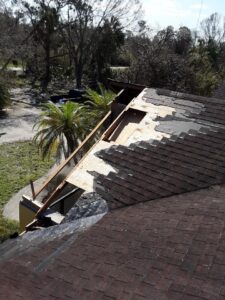 Parishes receiving a portion of the grant monies included Jesus the Worker (San Jose Mission), Fort Myers; Our Lady Queen of Martyrs, Sarasota; San Antonio, Port Charlotte; St. Andrew, Cape Coral; St. Catherine, Sebring; St. Charles Borromeo, Port Charlotte; St. James, Lake Placid; St. Joseph the Worker, Moore Haven; St. Katharine Drexel, Cape Coral; St. Maximilian Kolbe, Port Charlotte; St. Michael, Wauchula; St. Paul, Arcadia; and St. Francis Xavier, Fort Myers.
The Bishops' Emergency Disaster fund was established as a way for Dioceses to take up special collections in response to disasters and humanitarian crises. The fund supports USCCB efforts for pastoral and reconstruction efforts.
"St. Paul wrote that when one Christian suffers, all Christians suffer – because we are all part of one Body of Christ," said Bishop James S. Wall of Gallup, Chairman of the USCCB Committee on National Collections. "That unity is the heart of (special) collections. They bring faith, hope, and love to people in despair… and to disaster victims in our own nation."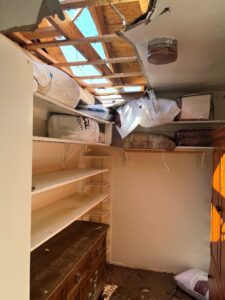 Bishop Dewane and Diocese of Venice Chancellor Dr. Volodymyr Smeryk visited impacted Parishes to see firsthand the extent of the damages and to learn of specific financial hardship. Parishes reported severe damage to churches, rectories and other Parish facilities.
Grant awards were announced in July, with the Diocese of Venice awarded $1.383 million. Smeryk said the grants assisted substantially in helping the most impoverished Parishes to recover from Ian faster than would otherwise have been possible.
In addition to the Bishops' Emergency Disaster Fund grants, the Diocese was also the beneficiary of emergency grants from Catholic Charities USA in the weeks following the storm, support which continues to this day. This support went to the immediate disaster response, helping people with emergency supplies such as food and water. Catholic Charities USA's generous contribution continues to help even today, now providing long-term disaster recovery and financial assistance for families who continue to rebuild from Hurricane Ian more than one year later.