The Office of Evangelization offered two opportunities to take part in the latest Apologetics Conference, "Defend Youth Faith: Finding answers to modern problems in the early Church."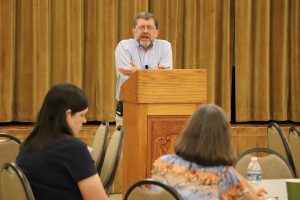 Mike Aquilina, an author on early Church history and executive vice-president of the St. Paul Center for Biblical Theology in Steubenville, Ohio, spoke Jan. 16 at Resurrection Parish in Fort Myers and on Jan. 17 at Epiphany Cathedral in Venice.
Diocese Director of Evangelization Joshua Mazrin said the talks were about providing the truth about Catholic teaching. The response was overwhelmingly positive.
The first talk by Aquilina focused on the role of angels in the Bible and in our lives. Starting in the Book of Genesis through the arrival the Messiah, Jesus Christ, and beyond, angels are pervasive.
"It was God Himself who made sure that our Bible, both the Old Testament and New Testament, would be packed full of stories of exchanges and conversations and interactions between angels and human beings," he said. "Those scenes are the foundational stones of what we call the Catholic devotion to the Holy Angels."
This gift of angels are a gift from God, helping us get from the place where we are, to the place we need to go, Aquilina noted. "Call upon the angels in your need, and they will bring us, as they brought Jesus, through sorrow to glory."
The second talk focused on the need for the faithful of today to use the example of the first Christians who "devoted themselves to the Apostolic teaching, to the communion, and to the breaking of the bread and the prayers." This was a total giving of self, and Aquilina add that "their martyrdom consisted in a daily dying to self in imitation of Jesus Christ."
For example, they would never eat lavishly while others were hungry, or never hold back their testimony to the faith if any of the others were living in sin or in ignorance of the love of Jesus Christ, Aquilina explained. These early Christians were closer to Jesus than they were to their family because the Lord promised them that they would live in Him, and He would live in them.
"This was, and is, the deepest truth of the faith," Aquilina said. "In Jesus Christ, we live as sons and daughters of the eternal Father – we share His own divine life. In Jesus Christ, we can call God our Father because God is eternally His Father."
Aquilina concluded by saying that we must give the total gift of self to Christ if we want to become what God made us to be. "There is no other way to be happy."