The faithful of Epiphany Cathedral in Venice received a special treat with a guest choir during a Mass on Feb. 20, 2022.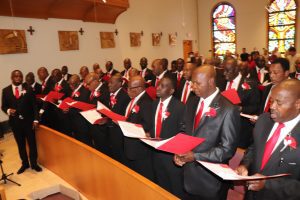 The Men's Haitian Choir of St. Peter the Apostle Parish in Naples was delightfully received when they participated in the 9 a.m., and later 11 a.m. Mass which was celebrated by Bishop Frank J. Dewane.
Bishop Dewane invited the Choir to come to the Cathedral after hearing them sing several times during the annual Diocesan Mass for Haitian Independence which takes place each New Year's Day, also the Solemnity of Mary, Mother of God. This Mass brings together the Haitian Catholic Community from across the region for a major celebration. Highlights of that celebration, the Bishop explained, include the performance of the choirs from different Parishes.
Following the Mass, the faithful gave enthusiastic applause in honor of the Choir for their contribution to the celebration. After Mass, several from the Cathedral individually thanked members of the Choir for their inspiring singing.