Staff Report
Estero –
Whether he's recruiting players, sharing with their parents or giving a speech to a group like Faith & Ale, Florida Gulf Coast University men's basketball coach Pat Chambers talks about his five pillars:
Faith

Accountability

Passion

Humility

Gratitude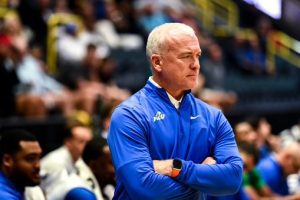 With each pillar, Chambers shares a story, sometimes personal, sometimes societal. All are emotional.
"When you share stories, people start to think of examples in their own personal lives," Chambers said. "Then, there's meaning behind each pillar and it becomes real."
On the court, Chambers has guided FGCU to a great start in his first season. The Eagles are one of the biggest surprises in college basketball.
Their first win came in Los Angeles against USC, coached by former FGCU coach Andy Enfield, who led the Eagles to the Sweet 16 in 2013.
FGCU won three games on consecutive days in the Gulf Coast Showcase in Fort Myers just before Thanksgiving and it has won three road games before ASUN Conference play.
Off the court, Chambers is a devout Catholic. The youngest of 12, he watched his father John – and then brothers – attend Mass every day in the Philadelphia area.
Church went from a place that made young Pat "feel good" to a sanctuary of "quiet time to pray and meditate and set up your day or week or month." Later, he and his brothers became part of a prayer group where they share inspirational thoughts and stories as well as bible passages.
He and wife Courtney have become part of the Naples community. Their children Grace, Ryan, Caitlin and Patrick attend St. Ann Catholic School.
Chambers has spoken at a number of Southwest Florida events, including Faith & Ale, a Catholic apostolate that offers men an encounter with the Catholic faith and Christ through fellowship and quality Catholic speakers with monthly meetings at various Parishes in Lee County (www.faithandale.com).
FGCU director of athletics Ken Kavanagh said he didn't hire Chambers because of his faith but it certainly didn't hurt him.
"As with all our hires, I looked at Pat's overall character as a person," Kavanagh said. "His strong faith plays into who he is. He's a major role model with young people and he's a tremendous ambassador for the university and the community.
"His optimism and positive perspective overall exude a confidence more than just Xs and Os."
Overcoming dark times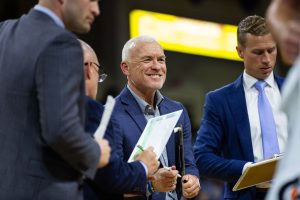 Kavanagh said Chambers lives his pillars on a daily basis.
Ironically, the coach began to form them after he nearly died.
In 2002, according to ESPN, the single Chambers met a woman he knew and two friends of hers, a married couple.
The man, possibly drunk, high or both, according to Chambers, stabbed him twice in the neck with a broken wine glass. The wound was a half a centimeter from his aorta.
As he recovered, Chambers quit his successful job in sales and administration for his family's printing business and turned his hobby – coaching high school basketball at Episcopal Academy in Philadelphia – into a full-time gig. He later became an assistant to Jay Wright at Villanova, then moved on to be a head coach, first at Boston University and then Penn State.
The pillars evolved while speaking with his brother Tim.
"We talked about it a lot," Tim said. "Recalibrate what's important. Take inventory. Access where he was. What are the important things in his life? He turned from the upside of material good to making an impact."
Chambers said the incident brought him closer to his faith. He prayed the rosary more, went to Mass more, told his story more.
"Maybe I can be a light for somebody who has gone through a traumatic event," he said.
At Penn State, more adversity struck Chambers when he and the school parted ways after an internal investigation determined that he had made an insensitive comment to a black student-athlete. It led to him and the school parting ways.
Again, Chambers faced the situation head on as he took sensitivity training. He also spoke to black players, including some of his former players, family, mentors, administrators. Their message: Get back into coaching.
"He really needed to process where his love for the game was," Tim said. "That's where nothing is more important than faith. You have to believe God has a better plan and I trust that he's gonna put me in a better place. Some of our blessings are disguised. It's not that you're getting over it but getting through it."
Chambers realized he couldn't hide.
"Isolation is the worst thing," he said. "Educate yourself, keep moving, self-heal, grow and learn."
"I come from a large family, and they said, 'You can't let this detour you from what you're becoming. And a lot of former Penn State players reached out and said, 'You helped us. The next generation needs you to help them.'
We all play the victim role and say "Why me?", Chambers notes. He allowed it to happen for a few hours and then realized, "I gotta get busy.
"Penn State brought me to my knees; but to live and breathe, we go through wins and losses and we go through challenges mentally, physically."
Shortly after he bought a home in Naples in 2014, Chambers drove around the Florida Gulf Coast University campus and said to himself, 'Wow, what would it be like to coach here?'
And now, here he is.
NOTE: The Florida Gulf Coast University Eagles play their games at Alico Arena in Estero and as of Jan. 17, the team had a record of 13-6. To learn more, visit https://fgcuathletics.com/.