Even before Hurricane Ian slammed into the coast of Southwest Florida on Sept. 28, 2022, Catholic Charities, Diocese of Venice, Inc., was gearing up to respond. In the intervening 12 months, the organization, with its teams of staff and volunteers, have been taking action to help people in a variety of ways.
First, after the winds, storm surge, and floods subsided, Catholic Charities was on the scene providing emergency supplies to thousands. That assistance transitioned over time to meet more complex needs beyond the basics of food and water to offering financial and other support.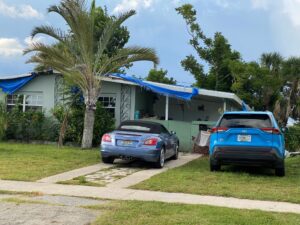 Now, one year later, there are still many who need help in their recovery process. Therefore, Catholic Charities has partnered with Lee County to be the lead agency on a dedicated recovery team. The Lee County Long Term Recovery Group (LTRG) is a team of staff who are focusing on collaborating with dozens of not-for-profit, government, and private sector stakeholders to provide a "safety net" for Hurricane Ian survivors.
As a facilitator, the LTRG will help maximize the effects of the many agencies working to help Ian survivors with a goal to restore them to their pre-storm status, within reason.
Catholic Charities CEO Eddie Gloria said the LTRG is working on a long-term plan that focuses on fixing homes and infrastructure, improving the economy, providing social services and financial relief, and preparing for future disasters.
This process is backed by Bishop Frank J. Dewane, who saw the wisdom of this focused effort, as Catholic Charities will support the LTRG by providing full-time staff, guiding its strategy, helping with activities, measuring progress, raising awareness, influencing policy, and finding funding for recovery efforts in Lee County during the next five years.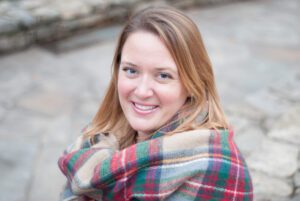 Catie Eck, formerly of Lee County Emergency Management, was selected as the LTRG Director, and has been working to hire staff to ensure that as individuals go through the process of recovery, the pieces are in place to help them.
"If your primary residence was in Lee County on Sept. 28, 2022, and you have sustained damage or have been impacted by loss of work then they will come to our attention," Eck said. "There is a great and continuing need in Lee County. It may not be obvious, but it is there. This group is here to help fill in the gaps of people who have exhausted the assistance that was initially made available to them and can't reasonably complete their recovery from Ian by themselves."
Initially, there were more than 2,200 who were identified as still needing immediate assistance, but that number has been whittled down to 311, a number that will evolve over time. This group of people have been handed over to designated disaster case managers.
Eck explained that the LTRG has resources that will be used to help people, such as licensed general contractors, suppliers who can offer construction material, a warehouse of donated items (clothes, furniture and other items), groups of volunteers who can do labor, as well as organizations who can offer financial support when other resources don't fill the gap.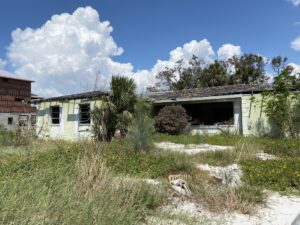 "This way, when a case comes before the board, everybody comes together to get a person what they need," Eck explained. "We are striving to make them whole, to pre-Ian levels, but when that isn't possible, we will work to get them as close to that as we can."
During LTRG process, a person with an unmet need would approach a partner agency (Catholic Charites, United Way, etc.), and they would then be referred to a case manager. The applicant will be helped through the paperwork which will document damage, what recovery actions have been done since the storm and what help has been received. This includes making sure the person did everything to help themselves and used any aid appropriately (insurance, FEMA, etc.), before finally establishing that there is a true need.
Once a need is identified, the case manager will then put together a proposal on how to fill the gap, which is then presented to the unmet needs group. At that point, resources (roof repair, drywall, labor) are assigned, when available. If there is still a monetary gap, the funding aspect will come into play. There, the partner organizations would then divide up the financial burden based on available funding so no one agency takes on an undue burden.
This case management process eliminates duplication of aid and allows participating agencies to help the maximum number of people with the resources that are available. Those resources can come in the form of donations, grants and government funding, but they are not unlimited and the LTRG is responsible to ensure the money is being used as intended.
While the initial case management number is at 311, Eck said that the recovery process will take a long time.
"People are still recovering from Hurricane Katrina (2005)," Eck said. "You must remember, Lee County lost a municipality (Fort Myers Beach); the barrier islands and large parts of Cape Coral were under water, and more than 60% of hotel rooms were initially gone. We are coming back strong, but we are nowhere near where we need to be. This is why the LTRG exists; to continue to be there to help people who are in need."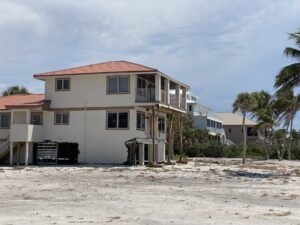 Eck noted that there are many who still need to clean out their homes from flood damage, others who have tarps on their roofs, some are living in the shell of a home or are in temporary housing waiting to return home.
"These are the people we will help," Eck said.
While the LRTG will help as many people in need as possible, there are limits. First, if the financial need is greater than the capability of the supporting organizations, a decision can be made to deny a claim in preference to apportioning that aid to more people. Eck said these instances will be rare, but as an agency dealing with funding from different sources, most donated, there is a responsibility to use the money appropriately.
For those who are unwilling to provide the required documentation of their recovery, including financial disclosures, or even apply for state federal aid, Eck said there is little that can be done because of the inability to ensure donor intent.
Others who may be eligible for help in the future are the many who are still fighting their insurance company for a final claim. If the status of such an applicant changes and resources are then exhausted and unmet needs are identified, the LTRG will step in to fill the gap.
As the LTRG becomes more operational, Eck said a hotline will be established, but for now, cases are being filtered through the various agencies that are part of the overall group, such as Catholic Charities, the United Way and more.
"This Long Term Recovery Group is unique in that Lee County had the foresight to fund the staffing," Eck said. "Catholic Charities then stepped up to take the lead. Government usually doesn't work in that manner, but the scope of the disaster and the number of people who are still in need made this the best way to bring many different organizations together help the most people possible."