On the Solemnity of the Immaculate Conception of the Blessed Virgin Mary, the 33rd annual National Night of Prayer for Life took place within the Diocese of Venice at four Parishes.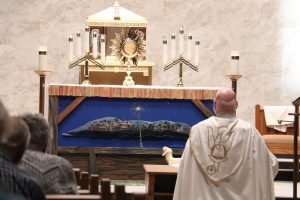 The National Night of Prayer for Life is an effort to unite people across the country, establishing a bridge between the Solemnity and the Feast of St. Juan Diego, to protect our culture, our Church and our land. Participating Parishes included San Pedro in North Port, St. Agnes in Naples, St. James in Lake Placid, and Ss. Peter and Paul the Apostles in Bradenton.
The faithful were encouraged to make reparations for all the lives lost in this nation to abortion and to pray that parents may be conscious of their calling as they share in God's creative power. Prayers were also made that those who have acted against human life experience forgiveness.
The National Night of Prayer for Life includes adoration of the Blessed Sacrament, the holy rosary, prayer to St. Michael the Archangel, silent prayer and hymns.
The goal is to be united with churches across the country in prayer to end abortion and restore God's blessings of Life and Religious Liberty in America.
At San Pedro Parish in North Port, the prayer vigil was led by Deacon Richard Frohmiller and corresponded with overlapping times across the different times zones in the country between 9 p.m. through 1 a.m. The unifying time when all major times zones in the country participated was between midnight and 1 a.m. (9 p.m. to 10 p.m. on the west coast).
During the San Pedro vigil, the faithful were able to complete each of the Mysteries of the Rosary, participate in an Act of Consecration, prayers to St. Joseph, Patron of the Universal Church, Litany of the Blessed Virgin Mary, and the Pius XII Prayer to Our Queen (reign Prayer).
Deacon Frohmiller said the importance of participating in the National Night of Prayer was not diminished by the recent U.S. Supreme Court decision overturning Roe v. Wade, but is actually now more important than ever as many states are focusing on allowing abortions until birth, and/or forcing more taxpayer funding for this evil act.
To learn more about abortion and respect life issues in general, please visit www.dioceseofvenice.org/respectlife.