By Jeanne Berdeaux, Special to the Florida Catholic
Would you know how to help a pregnant woman in need? Maybe it's your daughter, granddaughter, niece, cousin, sister, or neighbor. Maybe it's someone you see in a store, restaurant, or church. Perhaps she is crying, looks distraught or is obviously being treated poorly by someone. Through a new national initiative from the United States Conference of Catholic Bishops (USCCB) called Walking with Moms in Need, now you will know how to help.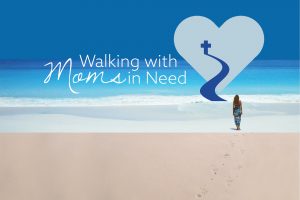 Walking with Moms in Need teaches parishioners how to help pregnant women in need, starting by letting them know they are not alone. The nationwide Catholic program calls
every parishioner to learn the names of their local pregnancy help centers, the first responders for women with unexpected or difficult pregnancies.
There are over 3,000 pregnancy help centers across the country. They have many different names, but they are staffed with people dedicated to helping pregnant women make the right life-affirming choice and find the help they need.
Pregnancy help centers, once referred to as crisis pregnancy centers, provide accurate information about a woman's options, pregnancy tests, ultrasounds, maternity and baby clothes, diapers, and other material needs, all free of charge. They also have a list of resources in the community for financial help, food, and other needs.
If a woman needs a place to stay and extra help throughout her pregnancy, the pregnancy help center staff will assist her in finding a maternity home and later an after-birth home where she will receive help to welcome her child into the world.
Many centers also reach out to the father of the child, helping him to become the father that the child needs and the support that the mother needs. Both the mom and the dad will be helped to realize that they are already parents.
Did you know that over 90 percent of women who see their child via ultrasound choose life? They may see their child sucking her thumb, waving, kicking, or jumping around in the amniotic fluid in the womb. They see that the baby is truly a human being, not just a clump of cells. Every pregnancy help center in the Diocese has an ultrasound machine, most provided by the Knights of Columbus.
In the Diocese of Venice, Parishes will initiate the new Walking with Moms in Need program with prayer and bulletin ads, posters, and other means of communication to point pregnant women in the right direction. Parish volunteers are encouraged to visit the pregnancy help centers in their area, meet with staff, and explore ways the Parish can help the center and their clients. Volunteers are needed to help with many tasks, from answering phones, sorting baby clothes, helping with mailings, and much more.
Perhaps a woman is looking for a Catholic Parish where she can return to her roots in the Catholic Church. Recently a Parish volunteer was able to welcome a new resident at Mass who moved into a local maternity home away from her home Parish. In another part of the Diocese, volunteers from two Parishes worked together to help a pregnant woman with material needs, providing a crib, stroller, furniture, and baby items. Catholic Charities and Pennies for Babies helped with rent and utility bills to keep the family from being evicted or having their electricity turned off.
To volunteer for Walking with Moms in Need, or to help your Parish introduce the program, visit https://dioceseofvenice.org/walking-with-moms-in-need. If you know of someone who is local, pregnant and needs help immediately, click the "I'm Pregnant" button at that link. If she lives elsewhere there is helpful information available at www.optionline.org. (Note: All Diocesan resources are available in Spanish.)
The demand for abortion will not just disappear, regardless of the upcoming Supreme Court decision regarding Roe v. Wade, the 1973 case that legalized abortion in America. Even if Roe v. Wade is overturned, and we hope and pray it is, abortion will not automatically become illegal; instead, it will go back to the states to decide. It is up to us, especial those of us who are Catholic, to make abortion unthinkable and offer better alternatives to women facing unexpected and difficult pregnancies.
Would you know how to help a pregnant woman in need?  Now you will, with Walking with Moms in Need. Let her know she is not alone.
Jeanne Berdeaux is the Diocese of Venice Respect Life Director.
FOR MORE INFORMATION
To learn more about Walking with Moms in Need, visit www.dioceseofvenice.org/respectlife or contact the Respect Life Office at 941-441-1101.
List of pregnancy help centers in Diocese:
Palmetto – North River Care PC* – https://www.northrivercare.org/ – 941-729-9004
Bradenton – CareNet Manasota PC* – https://carenetmanasota.com/ – 941-751-1966
Sarasota –  My Choice PC* – http://www.mychoicepregnancycenter.com/ – 941-351-3007; Community PC – https://communitypregnancyclinic.com/- 941-260-5427;
Sarasota Medical PC*; – https://www.sarasotapregnancy.com/ – 941-330-2273
Venice – Pregnancy Solutions – https://pregnancysolutions.org/ – 941-408-7100; North Port – 941-257-8270; Port Charlotte – 941-883-6346
Fort Myers – Community Pregnancy Clinics* – https://communitypregnancyclinic.com/- 239-689-1543; Verity Pregnancy & Medical Resource Center – http://www.veritypmc.com/ – 239-433-1929; Pregnancy Resource Center – https://www.prcnaples.org/ – 239-990-8186
Naples – Pregnancy Resource Center – https://www.prcnaples.org/ – 239-280-5523; Community Pregnancy Clinics – https://communitypregnancyclinic.com/ – two locations – 239-262-6381 or 239-778-8282
Immokalee – Immokalee PC* – https://www.immokaleepregnancy.com/ – 239-657-2016
Avon Park, Wauchula, Sebring, Lake Placid – Choices Family Resource Centers – https://choicesfrc.com/ – 863-453-0307
*Help available in Spanish
Residential facilities:
Bradenton, Sarasota and Englewood – Solve – 941-748-0094 – solvehomes.org
Venice – Our Mother's House of Catholic Charities, Diocese of Venice, Inc. –941-485-6264 – catholiccharitiesdov.org
Fort Myers – Our Mother's Home of Southwest Florida – 239-267-4663 – ourmothershome.com
Cape Coral – Thrive –239-242-7238 – thriveswfl.org
Naples – Sunlight Home – 239-352-0251 – sunlighthome.org
Naples – Providence House – 239-692-8779 – providencehousenaples.org
Material Needs: Venice Area Pregnancy Care Center – 941-485-1776 – vapcc.org
Project Rachel
Most women who choose abortion eventually realize that they made the wrong choice and face a lifetime of regret. Even if they confess this sin to a priest, they often find it difficult to accept God's forgiveness and forgive themselves. They will often confess the same sin over and over. Project Rachel is the Catholic Church's program to help women and men come to terms with an abortion decision and find the hope and healing they need. Watch for more on post-abortion healing in the next edition of The Florida Catholic. For confidential help, call 941-412-5860 or email project.rachel@dioceseofvenice.org.
How to help
If you would like to help pregnant women in need financially, consider giving to the Pennies for Babies Fund. Send checks (not cash) to Catholic Charities Pennies for Babies Fund, 1000 Pinebrook Road, Venice, FL 34285. All donations go directly to rent, utilities and special needs of pregnant moms who choose to parent their child.
USCCB Statement
 USCCB Pro-Life Chairman Urges Faithful to Pray in Response to Leak of Draft Supreme Court Opinion in Dobbs v. Jackson Women's Health Organization
May 4, 2022
WASHINGTON – In response to the leak of a draft opinion in the Supreme Court case of Dobbs v. Jackson Women's Health Organization, Archbishop William E. Lori of Baltimore, chairman of the U.S. Conference of Catholic Bishops' (USCCB) Committee on Pro-Life Activities issued the following call to prayer:
"The leak related to the U.S. Supreme Court case of Dobbs v. Jackson Women's Health Organization reminds us of the urgent need for prayer and action at this pivotal moment in our country.
"As Catholics, we care about every unborn child and every mother. Our Church has consistently witnessed in word and deed that life begins at the moment of conception. As the bishops shared in our statement Standing with Moms in Need: we pledge 'to redouble our efforts to accompany women and couples who are facing unexpected or difficult pregnancies, and during the early years of parenthood, offering them loving and compassionate care through initiatives such as Walking with Moms in Need and countless others.'
"At the same time, as we await the Court's decision, we urge everyone to intensify their prayer and fasting that the final decision of the Court will bring about the reversal of Roe and Casey.
"We hope and pray for a change in our laws and stand ready to help all pregnant women in need in each of our communities.
"Our Lady of Guadalupe, pray for us and guide us."