Summer is a time when young children take time to play games outside, go swimming, and generally do everything fun they feel they missed while in school.
This break from school can cause serious problems for younger elementary-aged children, as they can quickly lose reading and language skills gained during the previous year in what is known as the "summer slide."
Following an academic year when many students spent time remotely learning due to the global Pandemic, the risk of losing any skills is viewed as greater than ever.
To help prevent the "summer slide," Catholic Charities Diocese of Venice Inc. has partnered with the Patterson Foundation to participate in the "2021 Suncoast Summer Reading Challenge – The Campaign for Grade-Level Reading."
The Reading Challenge is a community-wide effort in Charlotte, DeSoto, Manatee and Sarasota counties to help children, especially those from low-income families, succeed in school and in life by ensuring they read at grade level by the end of third grade.
This is taking place at the Catholic Charities Casa San Juan Bosco Farmworker Housing community in Acadia where nearly 30 children are participating in a half-day summer camp focused on reading.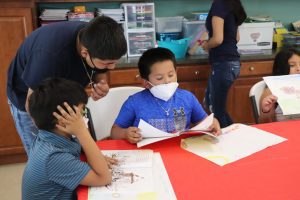 Clara Alvarez, who directs the Casa San Juan Bosco Educational Programs, said the partnership with the Patterson Foundation has helped bring in resources (books, teaching and learning guides) which allow the camp to succeed.
Teen volunteers help their young charges in all aspects of reading, including definitions, pronunciation and word usage in a way that is both supportive and fun.
"For the younger children just having someone read to them is a big help," Alvarez explained. "For the older children it is about encouraging them to read aloud and without support."
Many of the students are from bilingual families where English is not always the primary language spoken in the household, therefore the Catholic Charities camp serves as an important opportunity to develop their English skills which are needed to succeed in school.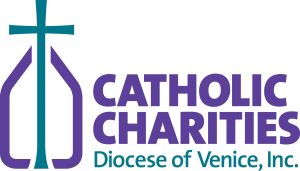 All books are age-appropriate with the younger children using pop-up books while the older children have books with lots of pictures. As the students advance to the next level they read books with more developed themes and far fewer pictures. For the oldest children, shared reading or solo reading is more common.
For example, a group of four-year-old children sat in spellbound attention as they learned about a train as a teen volunteer read a pop-up book to them. Nearby another teen told a silly story based upon a group of words chosen at random as this effort drew uproarious laughter.
Meanwhile, in the next room, a group of older children read "Make Way for Ducklings," a children's picture book by Robert McCloskey while an older group read and alternately discussed "Flora and Ulysses," an illustrated children's novel by Kate DiCamillo with 231 pages.
After each book, the children discuss what they learned, sometimes drawing an image from the book or writing a synopsis into a reading journal they each keep which logs all of the books they read but provides room to share what they learned. The younger children receive repeated lessons on vocabulary.
As could be observed with some of the children at Casa San Juan Bosco, the summer camp is helping to develop avid readers with some children filling their logs with dozens of books read during the camp and at home.
One young girl was eager to fill out her log, 20 books by the end of the second week, and asked to take two more books home. "I can't wait to read what's next," she exclaimed.
A nearby boy, a burgeoning artist, created an elaborate illustration that rivaled the book he just completed. With a big smile, he shared his colorful rending with the whole group.
All of this helps to develop multiple skills beyond reading, including understanding complex stories or themes, improving comprehension, and bolstering confidence in written, verbal and artistic abilities.
"It is great to see how excited they get when they get into a new book and start a new adventure," Alvarez said.
To learn more about the summer camp and all of the programs of Catholic Charities offered within the Diocese of Venice please visit www.catholiccharitiesdov.org.