By Bob Reddy – Florida Catholic
11/15/2018
November is an appropriate time to remember those who have died, that they may someday be accepted into heaven.
For this reason, Bishop Frank J. Dewane invites the Permanent Deacons and their wives to participate in a Memorial Mass each year as a time to pray for, to honor, and to remember the Deacons and their wives who have passed away. The 2018 Mass was celebrated on Nov. 6 at Our Lady of Perpetual Help Retreat Center in Venice. Today, there are more than 50 Permanent Deacons, many seasonal, living and serving throughout the Diocese.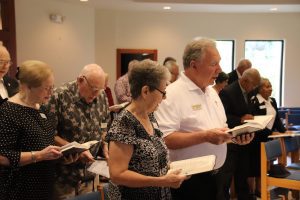 Bishop Dewane paid tribute to the Deacons for answering the call of the Lord in a precise way and took time to honor those who came before to ensure they are not forgotten.
"Being a Deacon is about building a spiritual life," Bishop Dewane said. "It is an intentional aspect of discipleship. You go forward – with the support of your spouse – blessed by the Lord who provides the resources necessary so that you finish that call you were given."
That call includes being representatives of the Living Church. Permanent Deacons serve as Ministers of Word, proclaiming the Gospel, preaching, and teaching in the name of the Church. They also baptize, lead the faithful in prayer, witness marriages, and conduct wake and funeral services. As ministers of Charity, Deacons are leaders in identifying the needs of others, then marshaling the resources to meet those needs.
The goal of the Memorial Mass is to bring attention to all of the Deacons who have served in the Diocese of Venice since its founding in 1984.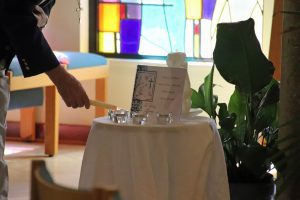 "Let us not just remember on a single day those who go before us," Bishop Dewane concluded. "Let us not forget that example of strength they gave us before continuing on their journey toward the Lord."
As part of this annual tradition, the names of those who have passed away during the previous year are solemnly read as a candle is lit in their honor. Included in the list of names were Deacon Edward McCarthy, Deacon Joseph Cirieco, Lillian Camacho and Miriam Horvath.
Deacon Frank Camacho said that the annual Mass serves as an opportunity for the Permanent Deacons of the Diocese, and their spouses, to take time out to reflect on those who have died in the most appropriate way through Mass and prayer.