Bob Reddy – Venice
Due to the seriousness of potential risks related to facility maintenance activities, safety awareness is a high priority for the Diocese of Venice.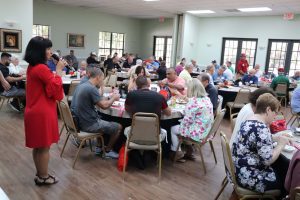 To address this important issue, a Safety Training seminar for facilities and maintenance staff of all Diocese of Venice entities took place Oct. 1 at Our Lady of Perpetual Help Retreat Center in Venice.
A wide variety of topics and interactive workshops were held to reinforce safety practices for facility and maintenance personnel. Spanish speaking instructors and materials were also available.
Donna Foti, Diocesan Risk Manager, explained that safety is a top priority in the Diocese and the seminar served to help reinforce this concept amongst those who do the facilities maintenance at parishes and schools throughout the Diocese. The day was also a chance for these vital employees to gather in one place and be recognized for their work.
Representatives from Aon, which provides specialty insurance for Diocesan entities, split the more than 100 participants into smaller groups and they then rotated between different stations to learn about key areas. Such areas included: use of golf carts; defensive driving; slip, trip and fall prevention; heat exhaustion; use of personal protective gear; identifying task for staff, volunteers and outside contractors; life safety; and claims processing.
Matt Long, a risk assessor from Aon, said the goal was to share information that will help safety improve for everyone who not only works on facilities maintenance, but who visits any Diocesan entity as an employee, parishioner, student or visitor.
Foti noted afterwards that the day was a resounding success and the feedback was overwhelmingly positive.
The day concluded with a drawing for nice gifts, including a personal cooler, NOAA weather radio and umbrellas.