When Olivia Fernandez received her first of two Covid-19 vaccination shots on May 1, 2021 she was very happy, having a new piece of mind that her whole family will be safe.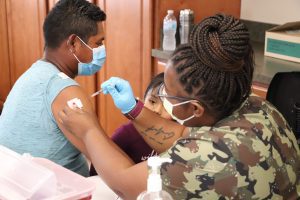 Fernandez was one of about 100 who received their vaccinations at Casa San Juan Bosco, a farm worker housing community in Arcadia built and operated by Catholic Charities Diocese of Venice Inc.
"I'm am so happy to be here," Fernandez said. "I worry about my little ones and this is one way to make sure I do what is right for them."
The clinic was free and open to anyone in the community and administered by the DeSoto County Health Department. The event was scheduled from 1-4 p.m., but some arrived as early as 9 a.m. The effort was to encourage the large local Hispanic population to get vaccinated, a part of the community that has been reluctant to receive their vaccines because of worries over side-effects and misunderstandings about possible costs and documentation requirements.
Heather Smith of the DeSoto and Highlands County Health Departments praised Catholic Charities for the effort, explaining how the community members were receptive to take part in a clinic held at a property run by the Catholic Church.
"This made a big difference," Smith said. "Thank you, Catholic Charities for doing this."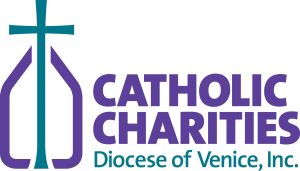 Philomena Pereira, CEO of Catholic Charities, said the support of Bishop Frank J. Dewane allowed the most recent effort to happen. An initial vaccination clinic was held in late April but limited to the adult residents of Casa San Juan Bosco. They will be receiving their second shots in two weeks.
"This is just the next phase of our response to the pandemic," Pereira said. "Part of that is being the conduit to help more and more people get vaccinated."
There are plans to have additional vaccination clinics soon at other Catholic Charities sites, she explained. These will be promoted to the local communities as was the clinic in Arcadia. Fliers were set up throughout DeSoto County helping get the word out and ensuring success. Another Catholic Charities site in Arcadia, the food pantry adjacent to St. Paul, will host a vaccine clinic May 16.
The Arcadia clinic had some extra perks for those who were able to take part. People received a gift bag which included donated sandwiches from Market360 in Naples, fresh vegetables, coloring books and crayons from the faithful of St. Francis Xavier Parish in Fort Myers, as well as undergarments for adults and children.
Father Anthony Hewitt, Pastor of St. Francis Xavier assisted throughout the day, helping people check in and fill out the necessary health forms. Also present were representatives from the Patterson Foundation promoting their summer reading program, and information was provided about how to apply for free or low-cost health services. Catholic Charities representatives were also there to answer any questions, translate when necessary and to share information about other programs that are offered at two Arcadia locations.
Those who received their first vaccine on May 1 will be able to return for their second vaccine at Casa San Juan Bosco on May 29.
Please visit www.catholiccharitiesdov.org to learn more about Catholic Charities, Diocese of Venice Inc.