A new leadership program created for teenagers who serve the Church got off to a strong start with its first gathering on April 28, 2022, at Epiphany Cathedral in Venice.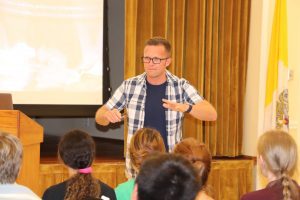 Eager teens learned about the new "Young Catholic Leaders" program, which is a post-Confirmation Religious Education course for teenagers who have been confirmed and want to continue the learning about Catholic Identity. The first meeting was just the beginning of a journey, as these teens will meet several times a year and discuss some of the bigger questions facing young people today.
"The idea is to be gathering young people together to learn about the Catholic Faith, beyond what they already know," said program organizer Anne Chrzan, Diocesan Director of Religious Education "Then they will learn how to share that newfound knowledge with other people."
At this introductory session, each of the teens was invited by various religious educators at the Parish-level having been identified as potential future leaders within the Church. Each student has been asked to have a Catholic mentor – someone who is fully initiated, participates in weekly Mass, daily prayer, and service to the community. The teens also learned about a newly online course, developed specifically for them, which includes five lessons on discernment, reflective prayer, spiritual gifts and leadership.
Chrzan said the "Young Catholic Leaders" program is dedicated to Blessed Carlos Acutis who was a young Catholic leader who had a strong devotion to the Eucharist. He died of leukemia at the age of 20.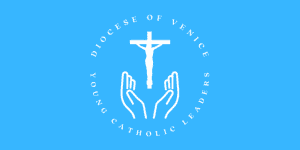 "All of us are asked to emulate saints and work toward holiness," Chrzan said. "Having a young man as a role model who is in the process of becoming a saint gives the 'Young Catholic Leaders' someone to honor, pray to and ask for intercessions."
The group also heard from Jimmy Mitchell, Campus Minister from Tampa Catholic High School, who shared his experiences of ministering to teenagers, many of whom never knew the Catholic Faith.
Mitchell shared his own journey of discovering the Catholic Faith and explained how the teens each need to learn what the Lord is calling them to do in their lives.
"Each of us, in our own unique circumstances, have the opportunity to be a modern Apostle," Mitchell said. "But you have to be people of prayer. If you don't pray, you don't have Christ. That is non-negotiable. From there, you have to know and love the Faith, and you have to be able to defend it. This can be done with a prayer life, because when you have a prayer life and also a habit of study your head and your heart will start to collide, or better yet work together – that's what the world needs – Apostles whose heads and hearts are alive fully formed and on fire."
Mitchell cited the key marks of a modern-day Apostle: prayer, study, integrity, joy, zeal, humility, reliability, obedience, normalcy, beauty.
"God is calling you to be saints in our times," Mitchell added. "To achieve this, the resolution you can make right now, is that you will advance your prayer life and let that zeal and love for the Lord take you to another level."
The "Young Catholic Leaders" will have four regional gatherings throughout the year centered on being a Catholic teenager in today's secular world, Chrzan explained.
Additional Diocesan-wide quarterly meetings will consist of Catholic leadership development, addressing the following topics:
What is Faith? How do I know if God exists?
How can I remain a Catholic when I leave home and start college or a career?
Philanthropy – The Catholic Church and the mission to help the poor. Learn about Catholic Charities and our responsibilities as Catholics to help the Church.
Vocations: What does having a calling mean to me and my friends?
Just for attending the introductory meeting, the teens were each given a gift bag, which included a backpack with the "Young Catholic Leaders" logo, as well as a water bottle, a rosary, a how to pray card, a St. Benedict bracelet (rosary on the wrist), a journal book, and a stress ball with the inscription: "With God, all things are possible!"
Chrzan explained that the goal is to have the leaders understand that they are not just part of a Parish-based group, but part of a Diocesan-wide initiative and their service to the Church will reach far beyond what they have done in the past.
The inaugural "Young Catholic Leaders" meeting for the southern part of the Diocese will be in early June at St. Agnes Parish in Naples. For more information about the coming meeting or becoming a "Young Catholic Leader," contact Anne Chrzan at 941-484-9543 or chrzan@dioceseofvenice.org.