Alan Baldarelli Jr. and Michael Young followed different calls of the Lord in their lives, but their answers were the same, leading the two Diocese of Venice seminarians on a journey toward the priesthood. The pair reached a major milestone along that path on April 2, 2022, when they were ordained as Transitional Deacons.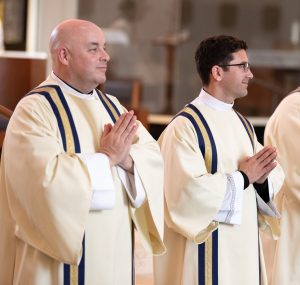 Deacons Baldarelli and Young were among 11 ordained at St. Joan of Arc Catholic Church in Boca Raton by Most Rev. David L. Toups, Bishop of the Diocese of Beaumont, Texas. The men, from different Dioceses across Florida, are studying at both St. Vincent de Paul Regional Seminary in Boynton Beach and Pope St. John XXIII National Seminary in Weston, Massachusetts.
With a broad smile on his face throughout his ordination, Deacon Baldarelli moves forward comfortable in the knowledge that he is truly following the call of the Lord in his life.
"I feel very confident in my vocation call," he said. He explained that the personal perspective gained from his previous work life before entering seminary, as well as seminarian pastoral assignments in Parishes, all combined to bring him to this joyful point in his spiritual journey.
Deacon Young said that this milestone is all part of a bigger journey. "I am in awe; one step closer to being able to save souls. This is all much bigger than me and I am blessed to be here."
The first of three ranks of ordained ministry in the Church, deacons perform many services to the Church in conjunction with the ministries of priests and bishops. In Parish life, deacons may preside at baptisms, weddings and rites of Christian burial, assist the priest at Mass, proclaim the Gospel and deliver homilies.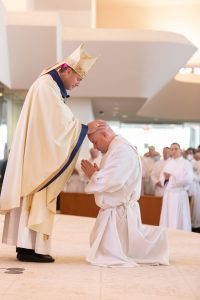 In his homily, Bishop Toups explained how Jesus was the Good Shepherd, and we must always be good sheep and follow the voice, and for the 11 men, that call is as deacons, and soon to be priests, all done with humble confidence and trust in the Lord.
"Jesus knows you and loves you," Bishop Toups said. "You are not alone. He has called you for this time – from the womb of all eternity – He has called you to serve and evangelize a world in a global pandemic, at war in Europe, and in a post-Christian culture that desperately needs the Good Shepherd even if they don't even know it."
Citing the example of Pope John Paul II, who died 17 years to the day of the ordination, as an example of someone who let nothing deter his efforts to serve the Lord, Bishop Toups noted how all those called to a vocation to priesthood are uniquely called to the period of history in which they live and then to respond heroically. "We need such heroes for today."
"You are called to shepherd and feed because our world is starving," the Bishop continued. "Brothers, first, be good sheep every day and be aware always that Jesus knows you and He loves you. As you turn to Him, the Good Shepherd; listen to His voice in prayer; trust Him to lead you; and then you will be shepherds worthy of the name."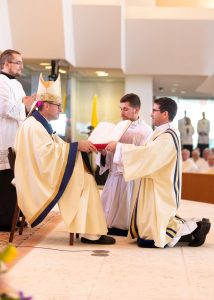 Following the homily, the men approached Bishop Toups one-by-one, knelt and promised respect and obedience to his Bishop and his successors. To signify humble submission before God, the men then lay prostrate in the sanctuary while the assembly sang the Litany of Saints.
The ordinations were complete after each man again approached the Bishop who imposed his hands on the candidate and proclaimed a prayer of consecration, to confer the Holy Spirit to guide their ministries.
The Deacons then received a stole and dalmatic (the exterior garb of a deacon), signifying the Office of Diaconate and the deacon's role in the celebration of the Eucharist.
Next, the newly ordained Deacons knelt before the Bishop who presented them with the Book of the Gospels, and said: "Receive the Gospels of Christ, whose herald you have become. Believe what you read, teach what you believe, and practice what you teach." The reception of the Book of Gospels is a symbol of their new ministry of proclaiming the Gospel and preaching. The Rite of Ordination concluded with the fraternal kiss of peace.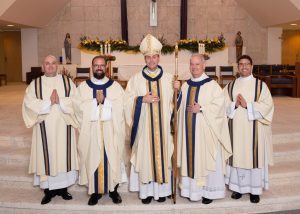 Deacon Baldarelli, 39, has been studying at St. Vincent de Paul Regional Seminary since 2016. He previously graduated from John Carroll University in Ohio earning a degree in marketing. He worked in sales for 11 years prior to becoming a seminarian for the Diocese of Venice. As a seminarian, he had summer pastoral assignments at Holy Cross Parish in Palmetto and St. Paul Parish in Arcadia, and then completed a pastoral year at Epiphany Cathedral in Venice. He said he benefitted from the sage wisdom of each of his priestly mentors.
Deacon Young, 55, has been studying at Pope St. John XXIII National Seminary which specializes in formation for later vocations. He served in the U.S. Navy before becoming a law enforcement officer and special/enforcement agent. He later worked as a reentry program case manager for men and women transitioning from the Federal Bureau of Prisons back into society. He earned a degree from John Wesley College in North Carolina and is a former member of a religious community who has now transitioned to candidacy for the Diocesan priesthood. Within the Diocese of Venice, he served pastoral summer assignments at Incarnation Parish in Sarasota and Our Lady of Lourdes Parish in Venice.
Please pray for these men as they continue their spiritual journey.