Linda Reeves – Florida Catholic correspondent
4/9/19
The journey to the priesthood for one seminarian began in Haiti and meandered throughout several countries. However, April 6 he was ordained a transitional deacon, one small step on his spiritual journey.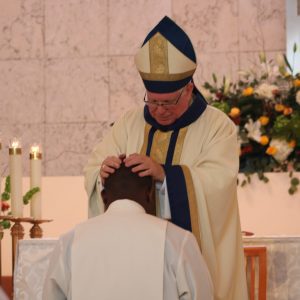 "This ordination for me is a moment of grace, a time of thanksgiving to God for his fidelity to me," said Diocese of Venice Seminarian Franckel Fils-Aime, who was ordained by Bishop Frank J. Dewane at St. Joan of Arc Parish in Boca Raton.
Bishop Dewane ordained a total of 15 seminarians of different seminarians from Florida arch/dioceses, most being from St. Vincent de Paul Regional Seminary in Boynton Beach. The Church was filled with family members, friends, guests, seminary faculty and leaders, priests and brother seminarians, all a witness of great support for the candidates soon to be ordained to the diaconate and to the Church.
The Bishop noted the special reason for the Mass and went on to say: "We celebrate your presence here today… of who you are, and who you are becoming."
During the homily, Bishop Dewane explained that the ministry is much more than taking on specific Church duties. "What you are called to do is to reflect the love of Jesus Christ," he said. "You are called to demonstrate this love in many ways; this you do with the help of the Holy Spirit."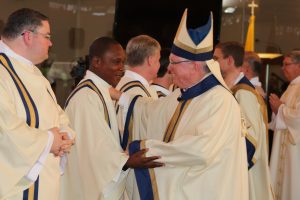 The Bishop also encouraged the men to "sow hope and trust in the Lord. You will teach Holy Doctrine to others but must be men of God and examples of living a life of prayer, high moral values and faith. May God bless each one of you for this decision you have made in your life and for your blessedness going forward."
During the ordination, the new deacons promised to live a life of prayer, celibacy and obedience to their Diocesan Bishop. Deacon Fils-Aime will have an additional year of theological studies and spiritual formation before petitioning for Ordination to the Priesthood in 2020. As part of the ordination rite, the Bishop placed the Book of Gospels in the hands of each candidate being ordained and said: "Receive the Gospels of Christ, whose herald you have become. Believe what you read, teach what you believe, and practice what you teach."
Deacon Fils Aime was joyful afterwards and reflected to the day so long ago when he told his parents about his vocation decision.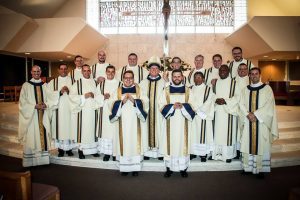 "They were praying that God would call one of their children to the priesthood, and even more happy because I am the oldest son," Deacon Fils Aime. "They understand as the Bible says, the first fruit is for God. I thank my family here in United States and in Haiti for their prayers and support."
Born in Cornillon (Potino), in west Haiti, Deacon Fils-Aime celebrated his 40th birthday one month ago. The son of Voguel Fils-Aime, residing in Haiti, and the late Philomène Remy, he is the oldest of nine. His father and two siblings were present for the ordination.
From a young age, the new deacon felt at home in the Church and first met Jesus through the Sacraments while witnessing the ministry of the priests who served as examples of Jesus Christ's love and mercy. "I heard the voice of God calling me for His services."
Deacon Fils-Aime began formation at age 26 with the Order of Friars Minor. He lived in community with the Franciscan Capuchins and continued to study and discern in the Dominican Republic and Brazil. It was in 2014 when he heard God calling, loudly and clearly, to become a diocesan priest. He subsequently joined the Diocese of Venice in 2015.
Now carrying the new title of Deacon, this last phase of his formation before being called to priesthood, Deacon Fils-Aime, can baptize, witness marriages, perform funerals and burial services, distribute the Eucharist and preach the homily.