The 40 Days for Life peaceful spring campaign in Sarasota and Fort Myers came to a successful conclusion on April 10, 2021, but there is more work to do. In fact, there is day 41 and beyond as people are needed 365 days to unfailingly stand as a witness for life, the voice of the voiceless – the unborn.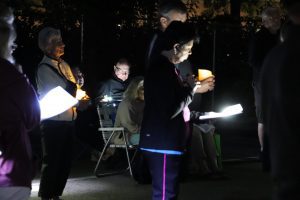 The 40 Days for Life 365 is an effort to ensure that whenever a local abortion facility exists, whether surgical abortions are taking place or not, the faithful are present showing compassion and support for those who enter such facilities.
Rich Owens, the Sarasota 40 Days for Life campaign organizer, spoke during a Candlelight Vigil on April 9 in front of the regional headquarters of Planned Parenthood, the largest abortionists in the nation. He focused on how the 12-hours-a-day, 7-days-a-week coverage makes a difference with five confirmed unborn babies saved since the start of 2022.
"You don't know who you are going to impact," Owens said. "There were 21 babies saved because of our vigil outside of this monstrosity (Planned Parenthood) last year. The most recent save we had was of a woman who approached one of us and said: 'There were people here three years ago. Here is a picture of my 3-year-old, because you are here.' It mattered to this girl, and it matters to the five we have saved since the start of the year. But it is more than that, it is the 10 souls (mothers and fathers) who don't have to go through the pain and emotional physical and spiritual suffering of having killed their child."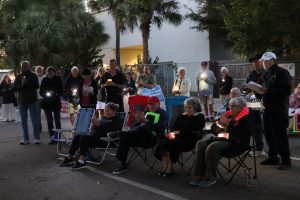 The 40 Days for Life spring campaign began Ash Wednesday (March 2) in thousands of locations in the United States and around the world with 455 babies saved. The local campaigns in Sarasota and Fort Myers benefitted from the support of local churches, both Catholic and other Christian denominations. Each church selects a day for coverage to ensure all hours are filled. Faithful from Parishes in the northern areas of the Diocese stand witness in Sarasota, while those from the central and southern regions are witnesses outside the Fort Myers Planned Parenthood. Participants can stand vigil for as much time as they wish. Signs are provided for those who want them, while others pray the rosary.
An expansion to 365 days is a daunting challenge even as both Diocesan locations have teams of dedicated prayer warriors and trained sidewalk counselors who are present on surgical abortion days (several days a week). The need for 365-day coverage comes from the reality that pre-surgery appointments and abortion-inducing drugs are offered at any time.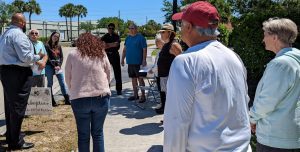 Maureen Nash, the 40 Days for Life leader in Fort Myers, explained that surgical abortions are performed at the Lee County facility on Mondays, Tuesdays and Thursdays.
"We make sure that those days are covered throughout the year," Nash said. "Along with our prayer warriors, Wednesday and Thursday we have Sidewalk Advocates for Life and the mobile van with ultrasound equipment available brought to us by Community Pregnancy Clinics Inc."
It is the effort to keep the Pro-Life campaign going that matters now, Nash added.
While there has been encouraging news from state Legislators regarding limiting access to abortion in Florida, and there is hope the U.S. Supreme Court will overturn Roe v. Wade (the decision that paved the way for unlimited legalized abortion in the U.S.); it is too early to celebrate a victory.
Owens said that in Sarasota the loss of one life to abortion is one too many and that the vigils will continue until this scourge on humanity ceases.
For 40 Days for Life 365 information on the two Diocesan locations, please go to www.40daysforlife.com/sarasota or www.40daysforlife.com/fortmyers. The Fort Myers prayer vigil takes place at 6418 Commerce Park Drive, while Sarasota prayer vigil is at 736 Central Ave.
For more information about ongoing efforts to defend life from conception to natural death within the Diocese of Venice, please visit www.dioceseofvenice.org/respectlife or contact Jeanne Berdeaux at 941-484-9543 or berdeaux@dioceseofvenice.org.