Youth from across Lee County were brought together for a faith and fellowship retreat at Bishop Verot Catholic High School in Fort Myers Feb. 4, 2023.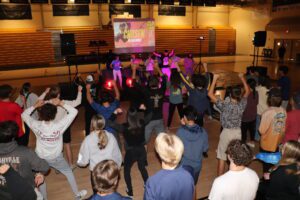 Featuring Joe Melendrez, the day included talks and music focused on the concept of "Chosen," based on the Gospel of John 15:16 – "It was not you who chose me, but I who chose you and appointed you to go and bear fruit that will remain, so that whatever you ask the Father in my name He may give you."
Melendrez opened with some dance music to get the 130 attendees amped up for a day that was to challenge them and encourage them to live their best life as Jesus has called for them. Melendrez encouraged the young men and women to have the confidence and strength to follow the Lord, to trust in Jesus in the good times and.
There was time for the youth to spent time in small groups to share their personal encounters with the Lord. A powerful moment came later in the day when everyone took part in Eucharistic Adoration, as one-by-one the youth recognized the presence of the Lord. The day culminated with the Holy Sacrifice of the Mass.
The reaction from the day by the youth was a mix of excitement and reflection as they were encouraged to reexamine how they are living their faith daily as well as finding their place in the Universal Church.
Youth represented at the retreat were from St. Leo the Great in Bonita Springs, St. Katherine Drexel and St. Andrew in Cape Coral, as well as Bishop Verot, Resurrection, St. Cecilia, Our Lady of Light, St. John XXIII, and St. Francis Xavier in Fort Myers.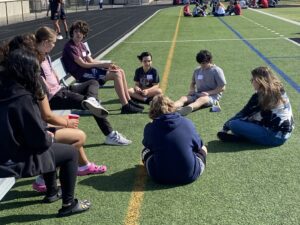 The retreat was a collaboration between adult leaders in Lee County who saw a need to work together on ways of supporting one another and as a result there have been two different youth events. The first joint event was Aug. 28, 2022, when the regularly scheduled youth outreach meetings at Parishes across Lee County were instead directed to St. John XXIII Parish, where the Parish Youth Council hosted a free summer concert event featuring EPIC the Band, for a night of music, adoration, faith and fun.
Kelly Evers, coordinator of youth and young adult outreach at St. John XXIII, said the idea of the retreat came out of regular monthly meetings when the leaders from different Parishes gather to share what is happening with their groups. The timing of the retreat at Bishop Verot coincided with the conclusion of Catholic Schools Week (Jan. 29-Feb. 4).
Evers said there will be more joint events for the youth in Lee County. Next up will be their participation in the Diocese of Venice Eucharistic Congress Youth Rally which is taking place in Fort Myers on March 24. Registration for the Youth Rally is through the Parish, but to learn more information please visit https://dioceseofvenice.org/eucharistic-congress/youth-rally/.