Staff Report
2019 Diocese of Venice Jubilarians recognized during the Chrism Mass, April 16 at Epiphany Cathedral in Venice.
50 years
Monsignor Rollin J. Darbouze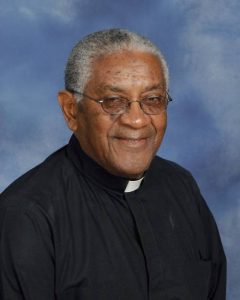 Born June 24, 1938, in Port-Salut, Haiti, the fifth of nine children of Hiram Francois Darbouze and Patiana Vante, Msgr. Rollin J. Darbouze was a sickly child who did not begin attending school until age 11. He studied as a seminarian at St. Jean l'Evangeliste in Camp-Perrin and later Notre Dame Seminary in Port-au-Prince where his education was put on hold when the seminary was closed by François "Papa Doc" Duvalier, the Hatian Dictator. He resumed his discernment to the priesthood at St. Joseph Seminary in Memramcook, New Brunswick, Canada. He was ordained June 28, 1969 in Quebec, Canada. Fluent in Creole, Spanish and English, Msgr. Darbouze first served at a parish in the Diocese of Nicolette in Quebec but was soon asked to serve the growing Haitian community in the Diocese of Brooklyn. For Brooklyn, he served in several different parishes in Brooklyn and Queens as well as in the Archdiocese of New York. He retired in 2010 and moved to Florida. For the Diocese of Venice, Msgr. Darbouze assists at St. Maximilian Kolbe Parish in Port Charlotte and Our Lady of Lourdes Parish in Venice.
Father Frederick J. Tillotson, O. Carm.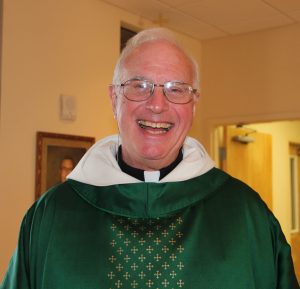 Carmelite Father Frederick J. Tillotson was born Oct. 4, 1942 in Pekin, Ill., the oldest of four children of Kenneth Foster Tillotson and Mary S. Cappel-Tillotson. He grew up in Puerto Rico and Sumatra, Indonesia, and attended high school at Aquinas College in Perth, Australia. He received his undergraduate degree from the Carmelite seminary and St. Bonaventure College (University) in Allegany, N.Y. Father Tillotson also holds degrees from the Gregorian University, Rome, Italy, and the University of San Francisco. He also pursued graduate studies at Oxford University in England, University College in Dublin, Ireland, and the University of London. He was ordained to the priesthood in Joliet, Ill., on Aug. 23, 1969. He has taught and held adminis­trative posts in several institu­tions including Director and instructor for The Kino Institute (the Academy of Religious Studies for Catholic Diocese of Phoenix, an affiliate school of the University of San Francisco); president of Crespi Carmelite High School in Encino, Calif.; Head of School/CEO for Salpointe Catholic High School in Tucson Ariz.; administrator of St. Cyril of Jerusalem Parish, Tucson; and as president of the Washington Theological Union in Washington D.C.; Director for Clinical Ethics for the Franciscan Health System of Philadelphia; member of the Institutional Review Board of the University of Arizona for Human Subject Research; member of the Bishops Committee on Sexual Misconduct; chaplain to the Tucson Notre Dame Alumni Association; member and chaplain to the Equestrian Order of the Knights and Ladies of the Holy Sepulcher with the rank of Knight Commander. While with the Diocese of Phoenix, he served on numerous diocesan councils and committees. He has held Carmelite provincial positions as coordinator of school ministry and member of the provincial council, as well as for the Carmelite General Curia in Rome. For the Diocese of Venice, Father Tillotson has served as Pastor of Our Lady of Mount Carmel Parish for nearly eight years.
25 years
Deacon John J. Mulvey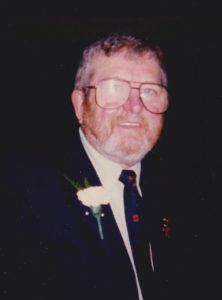 Deacon John J. Mulvey was born Nov. 27, 1931 in Syracuse, N.Y., to John J. and Mary O'Hara Mulvey. He was veteran of the U.S. Air Force, having served for 30 years before retiring in 1982 and later worked as a glazier at Syracuse University. He studied at Le Moyne Jesuit College in Syracuse and was ordained to the Permanent Diaconate on May 14, 1994 in the Diocese of Syracuse. Deacon Mulvey served at the two parishes in the Diocese of Syracuse. For the Diocese of Venice, he serves at St. Katherine Drexel Parish in Cape Coral and St. Therese Parish in North Fort Myers. He is married to Patricia (Wood) and they have four children and five grandchildren.
Deacon Armand R. Ragosta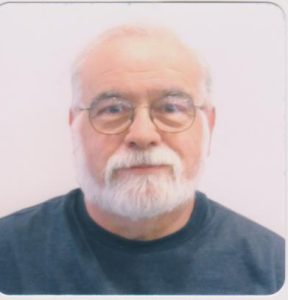 Deacon Armand R. Ragosta was born May 23, 1946 in Providence, R.I.to Armando and Etta Zompa Ragosta. He has a graduate degree from of Providence College in education and religious studies and has an undergraduate degree from the Boston Conservatory of Music. He retired in 2002 after 33 years as a music teacher for the Cranston (R.I.) School Department. He ordained to the Permanent Diaconate on Oct. 15, 1994 in the Diocese of Providence. There he served in three different parishes. Deacon Ragosta winters in Englewood and since 2015 for the Diocese of Venice he serves at St. Francis of Assisi Parish in Grove City and Our Lady of Lourdes Parish in Venice. He was married to his wife Ann Fiedorowicz for 48 years before her passing in 2017. They have two children.