News from across the Diocese for April 2019
Staff Report
Mission Possible Immokalee 2019: June 10-14

The deadline to register for the June Mission Possible Immokalee 2019 trip is May 10. All teens between the ages of 15-17 years old are invited by the Diocese of Venice Mission Office to participate in the trip, which is June 10-14. This is a Mission experience of service to the marginalized in Immokalee and will include daily sites visits, Mass as well as evening prayer and reflection. The cost is $180 per person and includes meals, lodging and transportation to work sites. Registration is through local Parish Youth Group or Catholic Schools only. For more details about Mission Possible Immokalee 2019, please contact Lisa Dahn at 239-241-2233 or missionoffice@dioceseofvenice.org.
Lent project focuses on Passion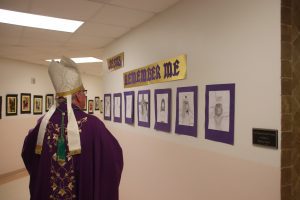 This Lenten Season students at St. Martha Catholic School were asked to draw the image of Jesus on the Cross. The drawings were put on display on the walls closest to the school Chapel. Bishop Frank J. Dewane, who was at the school April 17 to celebrate the Mass, was shown the images and he commented on how well they were done and appreciated that art is a unique way for students to connect with Jesus and His Passion.
Knights support St. Vincent de Paul Society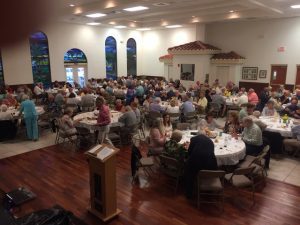 The Knights of Columbus San Marco Council 6344 sponsored the April 9 St. Vincent De Paul Dinner in the San Marco Parish Center on Marco Island. The event included a barbeque dinner and included lots of fun for more than 250 people who came out to support the programs at the St. Vincent de Paul Society. The Society provides emergency financial support for needy families in the area and thanks to the support of the Knights they will be able to help even more people this coming year.
Bible on the Beach in Venice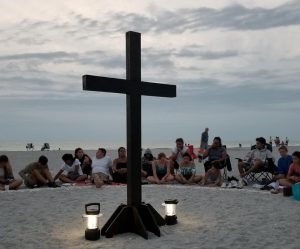 Epiphany Cathedral youth took part in a Bible of the Beach at Venice Beach following the Palm Sunday Mass. The annual gathering helps prepare the youth as they head into Holy Week. Diocese of Venice Director of Evangelization offered words of encouragement to the group.